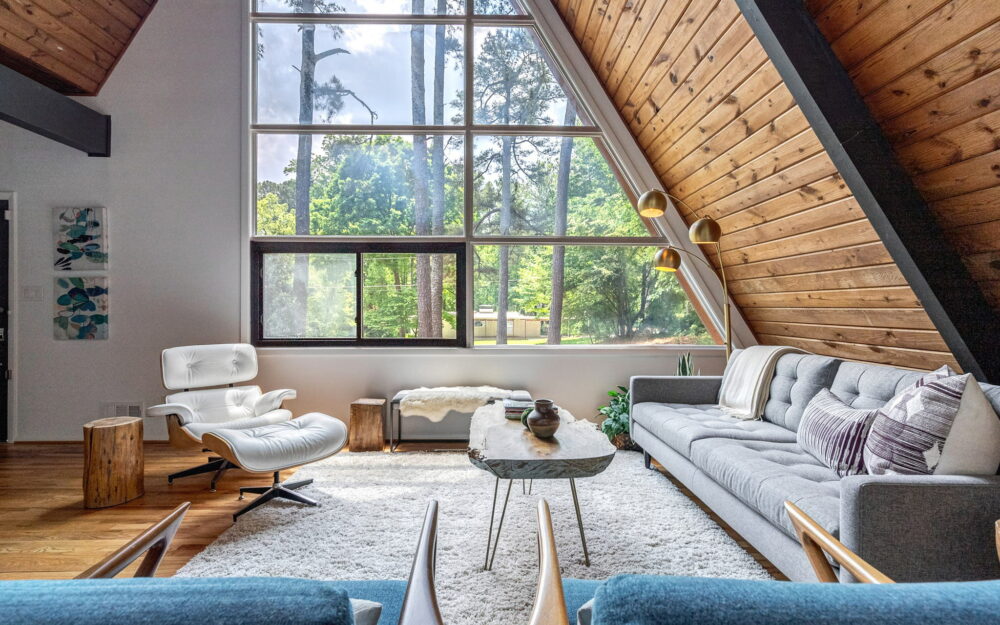 3878 Foxford Drive, Atlanta, GA 30340
* * * SOLD * * *
Once upon a time, in a mid-century modern neighborhood, known as Northcrest, there was a house. This wasn't just any house, this was a very special, A-frame house. It was surrounded by a magical forest filled with foxes and owls. All who drove by would stop and gaze upon its majestic curb-appeal, lush landscaping and longingly wonder, what it would be like to live in a home so extraordinary.
One day, the three bears who lived in this A-frame decided to take a walk in the woods, to let their spicy Mexican tacos cool down. No sooner had they left the home, when a beautiful Princess holding her beloved frog, knocked on the door. Not hearing anyone inside, the princess pushed open the door and gasped with delight. All the original tongue & groove ceilings were in tip-top condition and the most enchanting rays of sunshine were dancing through the panes of glass.
The princess quietly closed the door behind her and made her way into the sparkling, white modern kitchen. She looked down on the quartz countertops and there she noticed the spicy tacos cooling next to the gas stove. Surely the owners of this beautiful home wouldn't mind if she tasted just a nibble.
Six tacos and one full stomach later, she looked out through the kitchen window onto the 1250 sq. ft. deck and saw a modern, little house with it's very own patio and fire pit! What could this be? Another home full of delicious Mexican food? Perhaps it was a separate guest house that the owners used as an Air B&B that generated over $40,000 in passive income each year?
She was feeling sleepy so she decided to go see if there was s cozy lofted bedroom in the tiny house out back.
Meanwhile the smell of the delicious Mexican street food had drifted through the air and the three little pigs along with their neighbor, the big bad wolf had made their way to the magical A-frame. They were soon joined by Humpty Dumpty and all the Kings men. Before long the entire neighborhood was dancing and having a jolly good time. When the three bears came home from their walk, they decided to break out the Margarita machine and turn up the Gypsy Kings!!
THE END