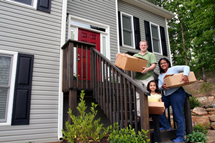 Your home is likely the biggest purchase you'll ever make. Below are some tips to make the process less intimidating.
Give yourself credit

Your credit reports are an ongoing look at how you manage your finances. Pull your credit reports to see if there are any surprises. For example, your report might show an unpaid bill that was actually paid. Correcting this type of error is relatively simple, but leaving it on your report could mean a higher interest rate from a bank or mortgage company. Why is your credit report so important? The reports are instrumental in the mortgage approval process and in determining the interest rate and other loan terms that a lender offers you.
Go shopping

Shop for a mortgage company before ever looking at a home. Many companies will pre-approve you based on your credit report and credit score. A pre-approval puts you one step ahead when you finally do find your dream home.
Get an inspection

Always insist on a home inspection prior to closing, even if you know the seller won't agree to make repairs. Inspection contingencies should always give you the option of backing out of a contract if you find that the house needs more repairs than you are willing to deal with. A whole house inspection is important, but so are checks for radon gas levels, pests, fireplaces, septic systems, private wells, molds and other potential problems.
Look to the future

Will you live in the house for the rest of your life? Probably not, so you'll want the property to appeal to potential buyers. Buying a home with good resale value sometimes takes a little patience and research, but you'll love the payback when it sells quickly and puts extra money in your bank account. A low price isn't a "deal" if it buys a house you'll be stuck with for a very long time.
Get it in writing

Hand-shake agreements sometimes work out just fine, but it's risky to depend on verbal agreements for any portion of your home buying contract. Verbal agreements cannot be enforced. There's no guarantee that you and the person you are working with will have the same memory and interpretation of what was agreed to, so put everything in writing and make sure that everyone involved signs the agreement.
Walk through it

Do a final walk-through after the house is vacant, on the day of closing if possible, and don't let anyone talk you out of it. You want to find damage before money changes hands because it'll sure be more difficult to recover funds to make repairs after the papers are signed.
Beware of too much debt

Avoid the temptation to over-extend yourself by buying more house than you can afford. No-money-down or low-down payment loans for real estate purchases are very popular. So are home equity loans for repairs and upgrades. But, if your equity is low, and the local real estate bubble bursts, you might end up owing more for the house than it's worth. That's not a problem if you can stay put until prices come back up, but an unexpected move could force you to find extra money to pay off the loan when you sell.