I have a strange connection to Eero Saarinen. Back when I used to sling coffee beans for a living, my boss at the time, who is a modern design FREAK, hired Saarinen's grandson. Why? Because he was Saarinen's grandson. Fair enough. I'd probably have done the same…but I digress…
As a newish resident of Atlanta, I'm still trying to get my bearings – figure out where to go, what to do. Thank goodness for NPR, my salvation! Driving around town in April, I happened to catch the feature piece they did with Dr. Mina Marefat, curator for Eero Saarinen: A Reputation for Innovation at the Museum of Design Atlanta. I was on the phone to my sister in a flash, roping her in to a trip to MODA, accepting nothing less than "Yes!" for an answer.
I was already super excited about the exhibit itself, and didn't think things could get any better, when I stumbled across a once-a-month event that MODA does called "Drink in Design". For those of you who aren't familiar with this awesomeness that should really happen everywhere, basically for the cost of admission*, you get a docent-lead tour of the exhibit AND A COMPLIMENTARY DRINK! Um…..YES, PLEASE!!!! It happens the last Thursday* of each month with whatever exhibit is currently on at MODA. So, I quickly purchased tickets online, and journeyed with my sister to the museum the last Thursday in April.
MODA is one of the more modest museums that I have been to. This retrospective filled the 2 exhibition rooms, a hallway, and part of the front reception/gift shop area with photos of Eero Saarinen through the years, stories behind his various works, and examples of his furniture designs. I'm still a little green (read: really green) in the design department, so I didn't know that he designed the St. Louis Arch, or the people movers that I've ridden in at Dulles Airport (I did, however, know that he was responsible for the design of the airport itself, thank you very much!), nor have I, as a California native, visited the Case Study homes in the Pacific Palisades (I know…for shame). Of all that I learned about in that 20-30 minute tour, my favorite Saarinen work was the chapel at MIT with metal sculpture by Harry Bertoia, although it saddened me to learn that parts of the exterior are not maintained. I walked away from this exhibit beginning to grasp just how much of a design beast Eero Saarinen was. I have so much respect for his talent.
All this is to say, a) go see this exhibit – you have until June 30th, and b) there's a Drink In Design event happening on the 29th. In the end, I missed the complimentary drink because my time management skills are not the best, so if you attend this exhibit's final Drink In Design event, when you're raising your glass and reflecting on the contributions Saarinen has made to make this world more aesthetically pleasing and functionally sound, think of me!
Eero Saarinen: A Reputation for Innovation at MODA ends 6.30.2013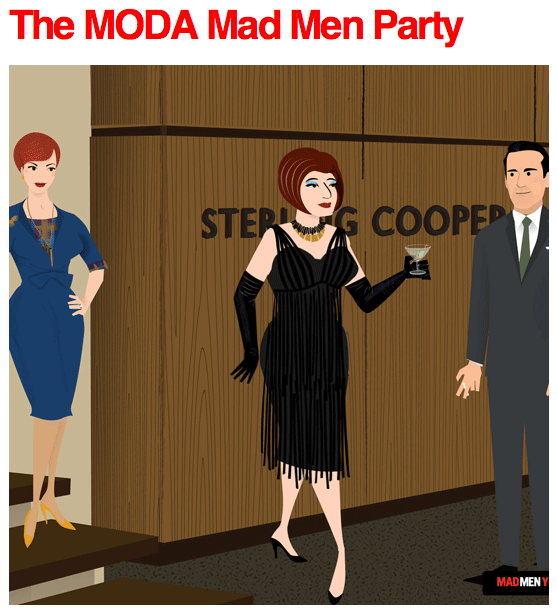 Drink in Design for this exhibit takes place on 6.29.2013 from 8pm – 11pm
*This month's Drink in Design is Mad Men-themed, happens on a Saturday night, and the cost is a little extra, but it looks like it will be fabulous! It's $20 members/$25 non-member and includes drinks, canapes, era-appropriate tunes, and a contest for the best mid-century attire!
In the domoREALTY office, we heart Eero Saarinen and his design genius! Company owner Vanessa Reilly also is the proud owner of one of his quintessential pieces, the Saarinen Oval Dining Table.