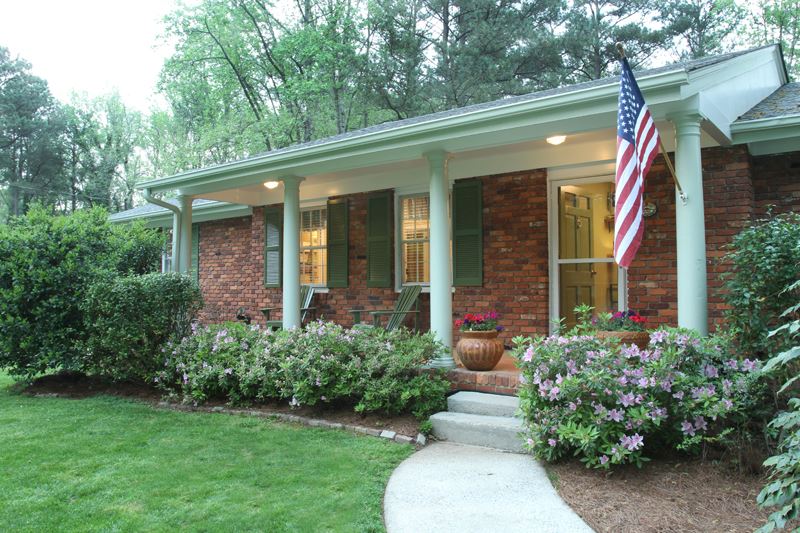 Just when you thought you'd seen all that Northcrest had to offer, THIS jewel demurely makes its way onto the market! And it's got it all!
Curb appeal…check! On your stroll up to the front of this house, you travel a path that hugs a gorgeous, lush green lawn. Vibrant pink azalea bushes provide a perfect burst of color and a beautiful scene to gaze out over from your perch on the porch. The home's facade, made of red brick – a Southern classic! – colorfully contrasts, yet compliments so very nicely, the well-maintained natural touches.
A well-designed interior….check! The hardwood floors throughout this house absolutely SING in the light! And the ever important kitchen and bathrooms have all received an update. For that matter, so have the walls of the home. Painted in a neutral shade, they work will with just about any decor. Try it out! And this home has MORE SPACE than meets the eye – it's sitting on a FULL BASEMENT!!!
Location…check! Situated on a quiet street in the swim and tennis community of Northcrest, it is possible to get to just about anywhere in the city, QUICKLY! Tucked between the 85 and 285, homes in Northcrest are minutes from Buckhead, Midtown, Downtown, Decatur and the Perimeter. 3385 Regalwoods is also in the LAKESIDE HIGH SCHOOL district, AND experiences the benefit of lower DeKalb County taxes!!! Could it get any better???
Mind-blowing backyard…check! Step out of the house, and take it all in! With its firepit and gigantic expanse, this backyard is nothing to sniff at! We didn't even know "mind-blowing backyard" was an essential checklist item until we saw this one. You'll understand when you see it in person, too!
How do you spell home? R-E-G-A-L-W-O-O-D-S!!!
4 bedrooms | 2.5 bathrooms – Priced to sell at $249,900
CLICK HERE FOR MORE INFORMATION ON THIS HOME
SEE MORE HOMES FROM domoREALTY HERE
3385 Regalwoods