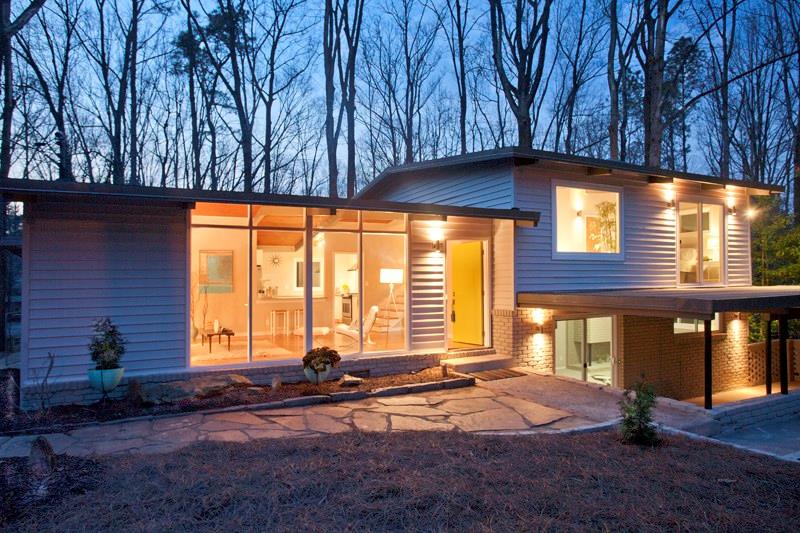 3360 Regalwoods Dr.
Atlanta, GA 30340
 SOLD – $570,000 ($45,000 OVER List Price)
If there ever was an Atlanta mid-century modern home that could stop global warming, solve world hunger and end all wars, 3360 Regalwoods Drive would be THAT home.
This Northcrest mid-century oasis will have you sobbing for joy as you dial your lender's number to make sure your pre-approval letter is freshly updated and ready to go.
But she's not just pretty, she also has a NEW $27,000 roof with extra thick insulation! And in the back, she's packing a NEW, 7-person, Master Spa on a reinforced, expanded deck. You might be tempted to strip down to your bathing suit (that you conveniently wore) and hop in for a relaxing, water-jet massage as you look up into the fir trees imagining this divine goddess is already yours. Just try avoiding eye contact with the melodramatic Realtor who will be telling you to put your clothes back on.
Hey, since you've decided to make yourself at home, why not enjoy a snack from the stainless steel fridge in one of the freshest kitchens ever, as you gaze out the front wall of windows at an angry line of buyers knocking on the front door because you have literally been in the house all day pretending like you already own it. After snacking, you might meander upstairs to the extraordinary 2nd bedroom that's currently being used as an office space but could be enjoyed as a meditation room, a sculptor's studio or an even an art gallery!
On your way out, be sure to grab a towel in one of the renovated bathrooms…and please don't get the oak floors wet. If you're feeling generous, you can even unlock the front door and let the angry buyers in as you head down to the den to pour another drink at the wet bar.
We get it, it's a tough market for buyers these days and sometimes when you find a house you love this much you need to fully experience it before you send in the offer — signed in blood with a special stipulation that includes your first, unborn child.
Also make sure to check out the always fun Northcrest Swim & Tennis club. The neighbors make this home an even more special place to live.
Check out the write up on Urbanize…
P.S. Please do not include first, unborn child in offer. Sellers are dog people.