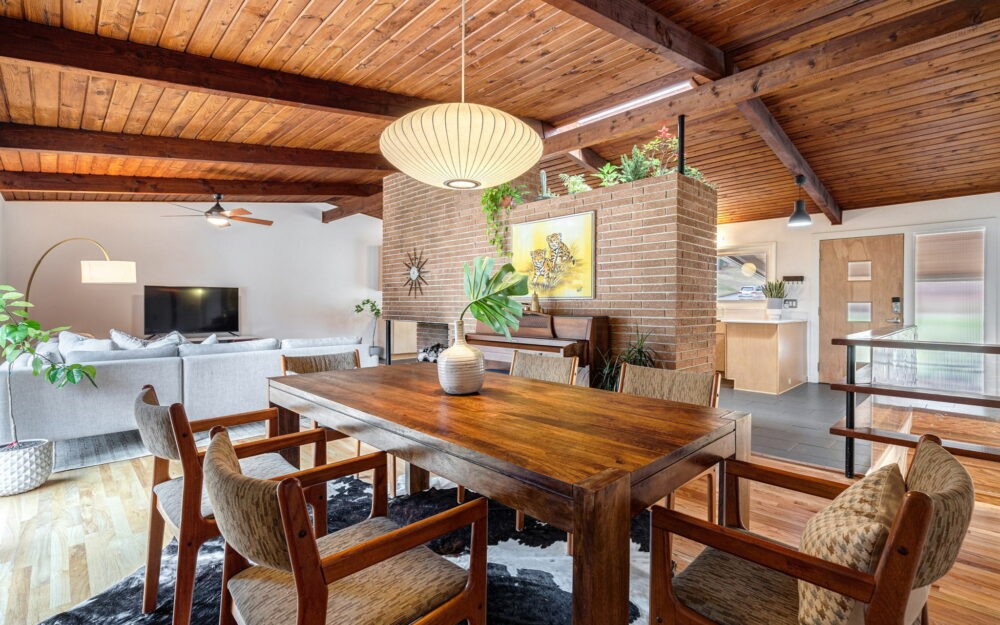 This Atlanta mid-century modern ranch is the one you've been waiting for. It's all that and a bag of hot, spicy Cheetos!! Don't let the low-slung, modest curb appeal fool you. This mid-century renovation has one of the most spacious floor-plans in Northcrest, complete with a full basement and a deck that spans the entire length of the home.
The open floor plan is anchored with a brick planter/ fireplace wall that divides the kitchen from the dining room and den. Natural oak floors compliment the the rich, heart-of-pine tongue & groove ceilings and the oversized windows let in an abundance of natural light.
Are you a TikTok cuisine artist? Well you're going to be the coolest chef on social media, once you start posting pictures of yourself whipping up vegan meals in this a-la-MODE(rn) kitchen. After dinner drinks anyone? Yes please, can you whip up a couple Paper Airplanes at the bar? Who's ready to cozy up by the fireplace and play "Cards Against Humanity!?" Ok, game time over, you and bae won (you always do). HOT-TUB party time!!! That's right bring the party to the steamy, new, 8-person, sunken hot-tub, located in your very own private, creekside paradise.
Folks, when we say it doesn't get any better than this, we are dead serious. Every bathroom isn't just renovated, it's thoughtfully designed and executed with vibrant, special-order tile and clerestory windows. This isn't your grey on white mixed with vanilla renovation. This is a yummy midcentury delicacy, smothered and covered in original details and elevated to the 21st century. When your agent tells you to "go all in!!" on this one, take their advice. Because if you don't, you'll be crying yourself to sleep for another 10 years while you search for "the one that got away." Did we mention it has TONS of unfinished storage in the basement and two legit bonus rooms that could be turned into bedrooms #5 & #6 or a home gym, an office, an art studio, a comic collection room… yep this one has it all.