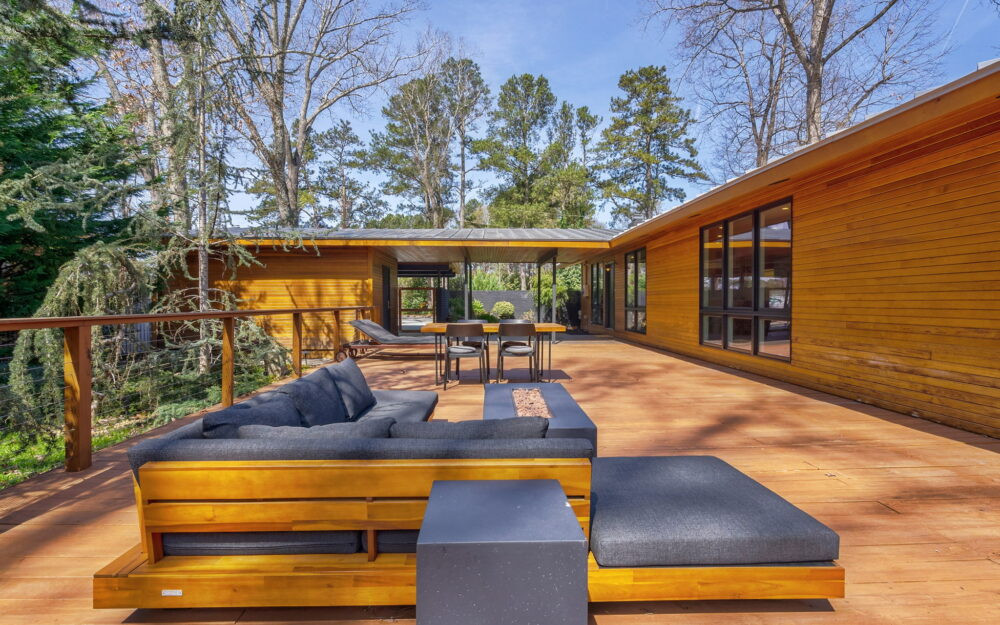 3207 Howell Dr. SE
Smyrna, GA 30080
3🛏 2 🛁
2 car carport
Starting Bid-  $590,000
If perfection had an address she would live at 3207 Howell Dr in Smyrna, GA. She would also date Tom Selleck and drive her own Ferrari 308 GTS Quattrovalvole, black on black, of course.
Do you smell that? It's cedar siding mixed with money. Every detail of this 1959 mid-century ranch has been curated and polished to perfection. Low slung horizontal lines are embellished with a sexy standing-seam metal roof. A private courtyard beckons with a noisy waterfall and rock gardens around every corner. This is the indoor/outdoor, California lifestyle you've been dreaming of, with a price tag that's still attainable.
Push past the carport gate and you'll find a floating deck that wraps around the home and features an outdoor shower. Host the most epic weekend parties as you smoke some sweet and spicy ribs on the green egg. Or chillax with your main squeeze, curled up next to the fire as you gaze out the picture windows and reflect on how amazing your life has become in 2022.
You did it! You manifested the most incredible home! With crisp white walls, bathrooms decked out in Restoration Hardware vanities and fixtures and a kitchen that features BOSCH appliances. Who would have thought that little investment called "BITCOIN" you bought in 2010 for .09 cents would allow you to buy the home of your dreams?! You are a rockstar and deserve everything you've ever wanted, including this home.
Life is good.