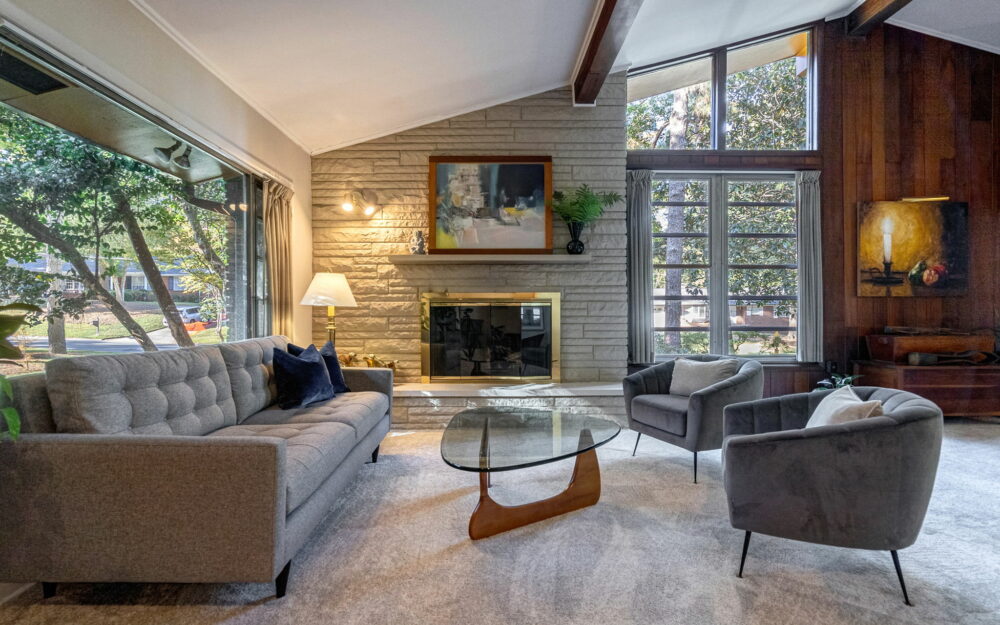 2249 Spring Creek Rd, Decatur GA 30033
3 bed 2 bath
Every morning you wake up and reach for your phone. You're scrolling for treasure. A diamond in the rough that you can turn into your mid-century muse. Every morning as you lie in bed with one eye open it's always the same. But not today!! Your finger just landed on a little red Zillow dot that is about to change your life forever.
Welcome to the 2249 Spring Creek Rd. A 1957, custom built ranch, that has been lovingly cherished by two owners.
Both eyes pop open! You are wide awake and you jump out of bed and run to the bathroom! Today is the first day of the rest of your life and you need to find a way to see this home and make an offer before the rest of Atlanta finds out about it.
Pulling into the level driveway you notice the robust chimney and the sexy angular roofline. The carport is massive, there's enough space for two cars and a covered sitting area. As you get out of your Tesla, you hear a waterfall. You decide to explore the backyard first. It's better than the online pictures. The noisy waterfall is cascading into the koi pond surrounded by a mature, perennial garden. You sit down on the patio sofa to take it all in. If there ever was a place that could rejuvenate the soul… Just then, you hear your agent shouting with excitement. She has unlocked the front door and appears to be doing cartwheels. You chuckle, you should probably see the inside of the house before you make an offer, details.
Inside, the main living space is extraordinary just like the listing agent described in the YouTube video. The stone fireplace, the mahogany paneling, the original triptych light fixture. You're already envisioning how your furniture will fit and where you will put the Christmas tree.
"OMG!! It's REAL, it's real terrazzo!" Your agent is screaming hysterically. You're starting to worry that she might be making an offer on this home too. The sunroom is just the right size with HEATED terrazzo floors, a wall of windows and an opening to the kitchen. You love this home.
Past the kitchen area is the bedroom wing with three generously sized bedrooms and 2 full bathrooms, both with double vanities and modern updates. The basement has more pristine, heated, terrazzo floors and yet another stone fireplace.
You're a risk taker and you know that mid-century homes this incredible don't come on the market often. But with inflation, an election looming and the world heading into the next financial apocalypse is it really a good time to buy? Yes. This house isn't just an investment, it's a life changing experience that will bring you joy for decades to come. One thing the past four years has made clear is how important our homes are for creating stability, safety and peace.
You're ready to make an honest to goodness offer. Your heart is in it to win it. Assume the feeling that it's already yours. Cash in those mutual funds (that aren't going up in value) and give them a new purpose, a new life.
You look your agent square in the face and make a request "Please don't make an offer on this home. I'll let you housesit whenever I go out of town." She pauses for a second then says, "Deal!"