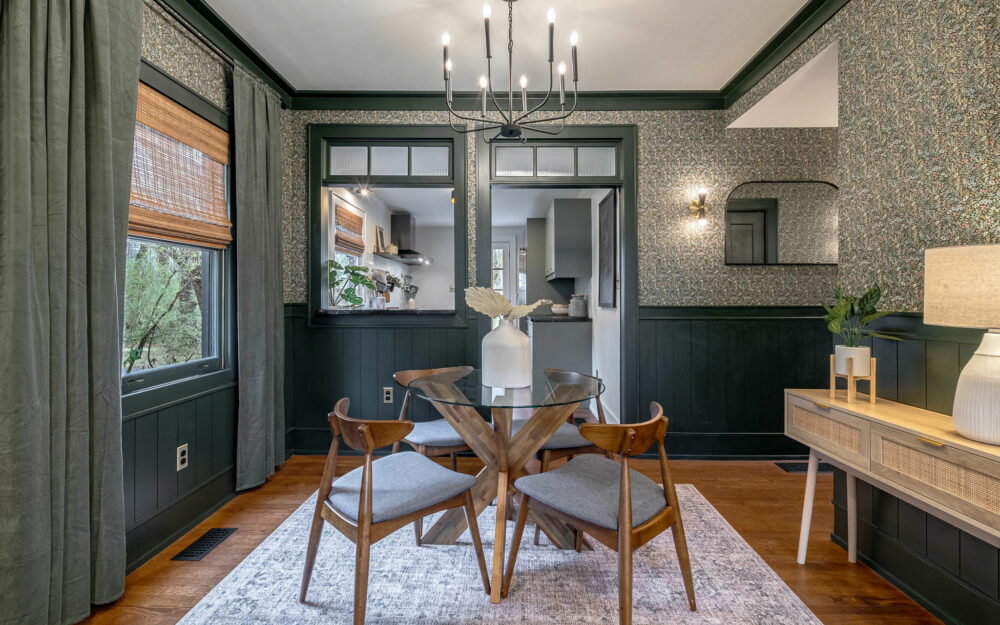 OPEN HOUSE
Saturday 2/4 & Sunday 2/5 2-4pm
141 Watson Cir. Atlanta, GA 30317
2 bed 2 bath
offered at $489,000
Once upon a time, there was an enchanting cottage, nestled in the Atlanta neighborhood known as Kirkwood. It was a magical place with delicate floral wallpaper, brass light fixtures and custom mill work that embraced the windows.
Birds would flutter to the backyard as squirrels would hide their treasure amongst the thick tree roots of the giant poplar that shaded the deck. It was a cozy, inviting home, with sage green cabinetry and hand polished soapstone countertops. All who entered felt a sense of peace and serenity.
One Sunday morning, a lovely couple went out to their favorite French market, Le Petit March. It was their Sunday morning guilty pleasure – to order sweet and savory beignets while they reconnected after a long work week. They had just licked the last drops of honey off their fingertips and were scrolling through their Zillow feed, when what should pop up, but an Open House right around the corner!
"Oh Darling!" The wife exclaimed with excitement. "Let's go take a quick look at this precious bungalow! I want to get some decorating ideas for our bathroom remodel."
They thanked their waiter, buckled their chin straps on their helmets and turned left out of the parking on their shiny, black Vespa. When they arrived at the open house, they saw a line out the door. Apparently, all of Atlanta was getting decorating ideas from this Kirkwood gem.
Nevertheless, they made their way to the front porch and pushed past the orange front door. And then it happened – time stood still. Everything felt as if it were in slow motion and the people disappeared. It was just the two of them, standing motionless as they took in ever detail of this magical space. A house that had been designed and built just for them. The textures, the light, the crisp white walls, every detail was perfectly and intentionally married.
The house wasn't big, it wasn't boastful. It was elegant, thoughtful, harmonious. It was just right. They looked at each other and smiled. This was what it felt like to be home.
The rest is history. Years have passed and the couple have grown older. They moved into the home and their lives kept getting better and better as the days went by. They still go for long walks in the evening. They are a little slower now and the husband walks with a cain. The wife holds his hand as they walk slowly through the neighborhood smiling and talking about what a wonderful life they have lived. Gratitude fills their hearts and beauty surrounds them.
Younger couples sitting on their front porch think to themselves, " I hope we're that happy when we're their age." And every Sunday, you can still see them sitting on the patio at Le Petit March, enjoying their morning beignets, sipping their coffee.
Their neighbors know them as the sweet, older couple who live on Watson circle in the cute, black bungalow with the orange door.
Could this be your love story? Could this be your happily ever after? I think so…