Many unique architectural styles are found throughout Atlanta. While the fire in 1864 destroyed anything that would have fallen under the Antebellum past of the area, Atlanta is still home to some very unique architecture.
It's very much a post-modern American city with architecture that reflects this style. Atlanta was also one of the first cities to show off new architectural styles, in many cases.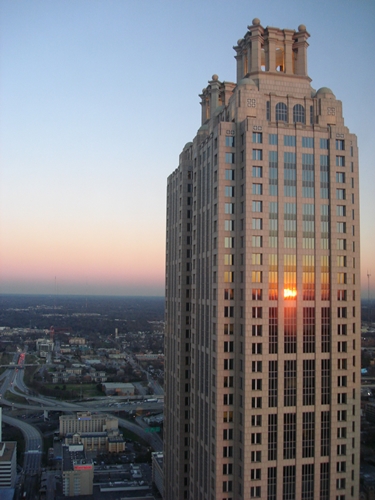 The city hasn't always been the best at preserving great buildings, such as the Commercial-style Equitable Building and the Classic Carnegie Library. These, along with the Beaux-Arts Style Terminal Station were destroyed. Even the Neo-Moorish Fox Theater was nearly demolished until a grassroots movement popped up in the 1970s to save it.
History of Atlanta's Architecture
Antebellum was the original style throughout Atlanta, but the fire of 1864 destroyed most of the buildings showing this style. The style wasn't even comparable to the same found in Savannah, GA, however. No Antebellum buildings remain in the city limits, while only a handful of buildings survived the fire outside to the city limits. The Tullie Smith House, found at the Atlanta History Center is one of those buildings.
Postbellum came next after the Civil War. During this time, many of the buildings were not of a typical southern style, but more of a Midwestern style, which gave Atlanta nicknames as The New York or Chicago of the South. The Equitable Building, Rhodes-Haverty Building and Candler Building were all from notable architects during this time, such as G. Lloyd Preacher and Francis Palmer Smith.
The Cold War Era brought even more unique styles of architecture to the city with modernist buildings, such as the Georgia-Pacific Tower, Westin Peachtree Plaza and Atlanta Marriot Marquis. John Portman designed the Hyatt Regency Hotel during this time, as well.
The Contemporary Era of the 1980s came next with the One Atlantic Center, Bank of America Plaza and 191 Peachtree Tower joining the city. This was the time when many of the tallest buildings in the city were created with tapering spires and ornamented crowns.
Some industrial architecture has been repurposed over the years including the Telephone Factor Lofts, Old Forth Ward, Cabbagetown and a few others.
Most Notable Architects and Buildings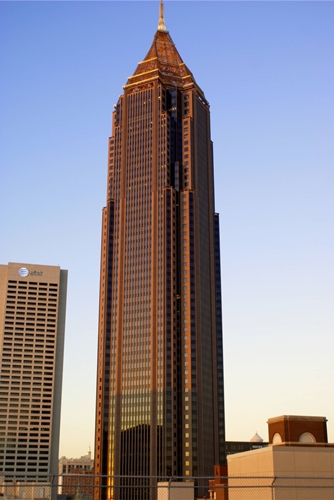 High Museum from Richard Meier and the addition in 2005 from Renzo Piano is one of the best modern examples of architecture in Atlanta. In addition, the post-modern style from Michael Graves from in Ten Peachtree Place is another unique choice. The One Atlantic Center, designed by Philip Johnson provides gothic elements with a copper top and clad in pink Spanish granite.
Marcel Breuer, one of the most notable modernist's architects, designed the Atlanta-Fulton Central Library. A Flatiron Building is also found in Atlanta, similar to the one found in New York City and it dates back to 1897.
Many styles of architecture are found throughout the city and some of the top buildings showing off the architecture include:
Bank of American Plaza
191 Peachtree Tower
Promenade II
AT&T Midtown Center
3344 Peachtree or the Sovereign
Georgia-Pacific Tower
Westin Peachtree Plaza Hotel