The top multi-media and pop culture convention in the country, Dragon Con in Atlanta is coming very soon. It's a Labor Day Weekend event held from September 1st to 4th this year. The event will include all kinds of fantasy gaming, comics, science fiction, art, music, literature and film. Some of the hottest brands will be on hand, along with many up-and-comers.
Comics & Pop Artist Alley
One of the very popular areas of Dragon Con is the Comics and Pop Artist Alley. This section will be held in the Americas Mart and will be bigger than last year. Many of the best dealers will be nearby in the Dragon Con Vendor Hall, as well, which means you can easily hit up both.
About 150 artists will be on hand including writers, illustrators, painters and sculptors. A huge array of unique options will be found here including pop surrealism, art toy design, animation, comics and even lowbrow. Meet your favorite creators, buy art and comics or even attend a fan panel in this area.
The Comic & Pop Artist Alley will be open from 1pm to 7pm on Friday, from 10am to 7pm on Saturday and Sunday and from 10am to 5pmo on Monday.
Performers
Dragon Con isn't just a convention with booths full of comics. Many performers will take the stage and will provide plenty of entertainment throughout the events, as well. Performers include:
Atlanta Swing Orchestra
Crossed Swords
GLANK
Lips Down on Dixie
New York Disco Villains
Palmetto Knights
Stonebuner
That Darling DJ Duo
Wasted Wine
And More!
Gaming
Plenty of gaming options will also be a part of the event. From board games to video games, there will be a little bit of everything on hand. Enjoy live action role playing, campaign RPGs, LAN Games and even table top games. The event will have all kinds of game options including competitive play and even tournaments.
The Parade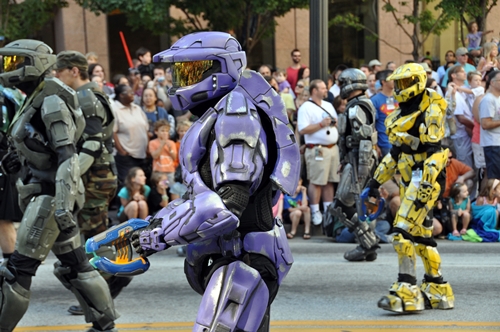 A huge part of the event is the parade held on Saturday starting at 10am. The Dragon Cond Parade will be attended by many and will include all kinds of favorite characters, along with so much more. It will head down Peachtree Street in Downtown Atlanta and will start at 10am.
Other Events
Along with the main events, Dragon Con will also include plenty more, such as:
Autograph Sessions
Dragon Con Burlesque: A glamour Geek Revue
Night at the Georgia Aquarium
Reading Sessions
Video & Film Rooms
Wrestling
The Labyrinth Masquerade Ball
Guest of Honor Awards Banquet
And More!
Dragon Con also gives back with the annual Dragon Con Charity Auction. This auction helps to raise money for various charities in the area. It will include many items related to science fiction, comics and so much more.
With plenty of great events throughout the weekend, you won't want to miss Dragon Con. Whether you love comics or you're just curious about the event, it's something everybody can enjoy. Find out more about the event by going to their official website at: http://www.dragoncon.org.