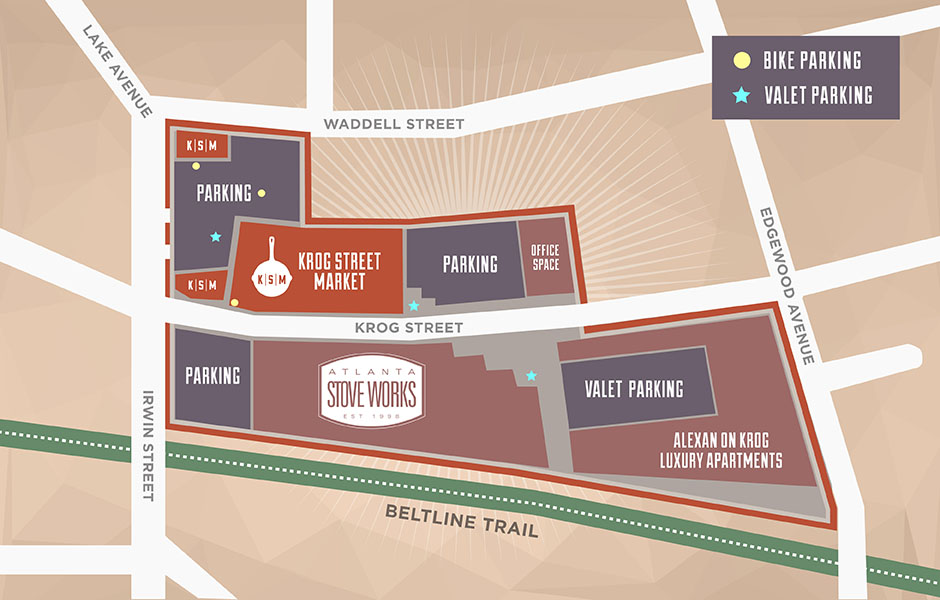 The destination for intown culture in Atlanta is known as the Krog Street Market. This is the place to find something unique, something special and something authentic. The market is found in a 1920s warehouse and provides a number of great product including prepared foods, produces, good ds and so much more.
When you enter the Krog Street Market, you'll discover plenty of restaurants and retailers throughout. It's a bit of a gathering place and known as a west coast-style market. Located right in the heart of Inman Park and not far from Cabbagetown, this is a premier destination for shopping and dining.
History of Krog
It all started back in 1889 when the Atlanta Stove Works started to revolutionize cooking in Atlanta. This was one through the Barret Range, which was made of cast iron.
As of 1987, the company had been in business for nearly 100 years, but closed their doors and the factory was abandoned in 2004, the factory was turned into a mixed-use development including office space and restaurants.
In 2006, Tyler Perry purchased land for $7 million from Atlanta Stage Works and turned it into Tyler Perry Studios. The company has made 16 movies, 5 television programs and 14 stage plays.
It wasn't until 2012 that the actual idea for the Krog Street Market became real. Tenants began to open their doors in the market in August and September of 2014. In November of 2014, Krog Street Market opened!
The Dining and Shopping
Many retailers and restaurants are found throughout the Krog Street Market including:
G.C. BBQ
Hop City
Bar Mercado
Fred's Meat & Bread
The Collective
Jeni's Splendid Ice Creams
The Little Tart Bakeshop
Gu's Dumplings
Makimono
Nature's Garden Express
Mama
Suzy Siu's Baos
Richard's
Urban Pl8
The Merchant
Superica
Ticonderoga Club
Yalla
Varuni Napoli Pizza Artisans
And More!
Several great restaurants and shopping options are all located in the same area at the Krog Street Market
Location and Information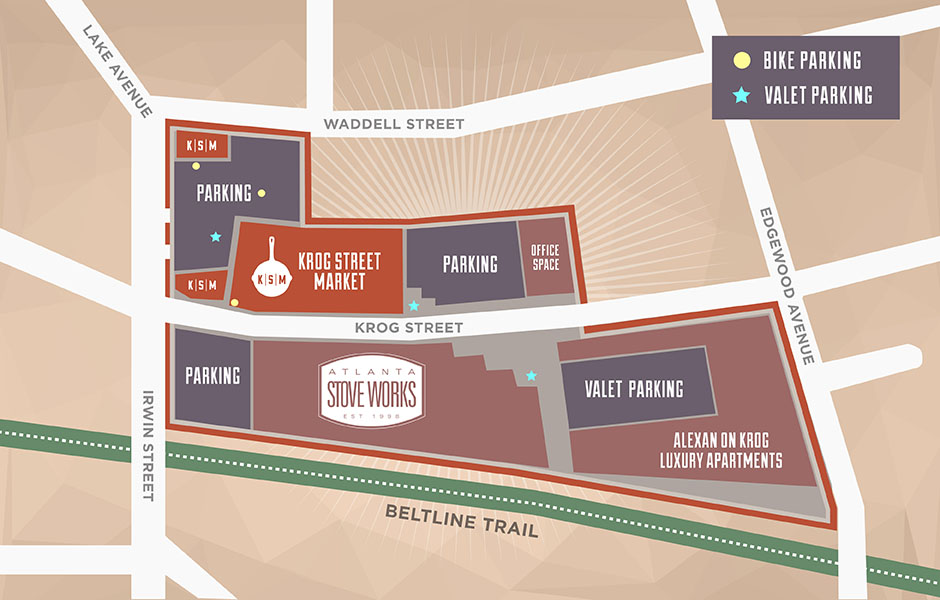 The Krog Street Market is found at 99 Krog Street in Atlanta. It's located in Inman Par, right off the Beltline Trail and very close to Atlanta Stove Works. It's also found close to the Alexa on Krog Luxury Apartments and The Stacks Lofts.
Bicycle parking and regular car parking is available nearby. Electric car charging stations are also found in the parking lot off Lake Avenue. Charging your vehicle is complimentary. There's also a communal dining area called the living room with family-style tables for all to enjoy.
The Krog Street Market is open from 7am to 9pm, Monday through Thursday, from 7am to 10pm on Friday, from 8am to 10pm on Saturday and from 8am to 9pm on Sunday. Some tenants may not keep the same hours as the market, however.
Three locations do offer valet parking during the evening hours. They include The Luminary, Stove Works and in front of the main Market entrance off Lake Avenue. In addition, free WiFi is available for up to 30 minutes in the market.