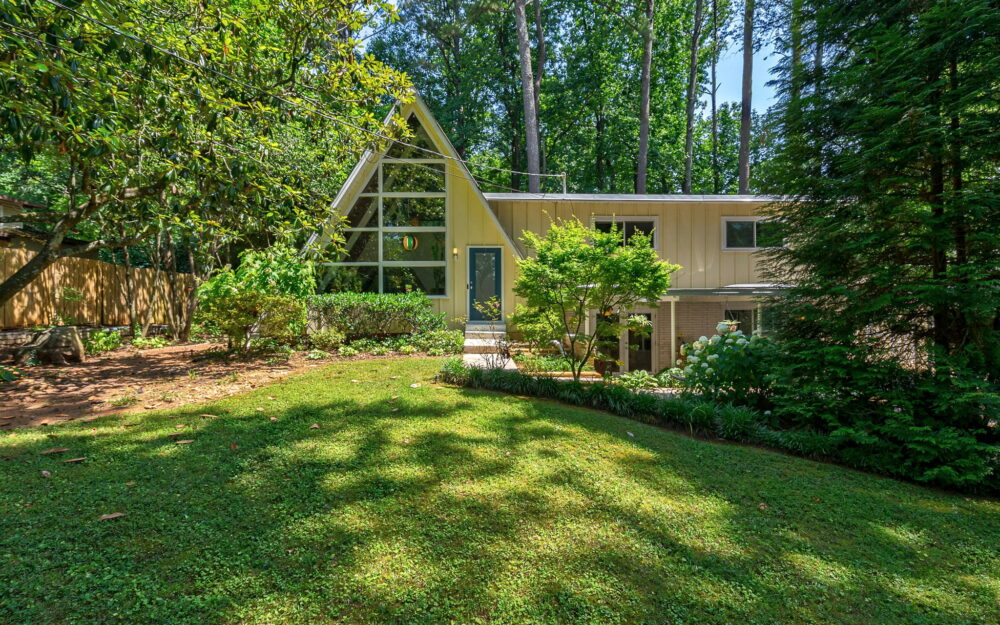 ✨ Atlanta Mid-Century A-Frame ✨
3636 Northlake Drive
* * SOLD * *
Hearts were broken and tears were spilt after the last A-frame we listed went under contract. But guess what!? You have another chance to own a one-of-a-kind Northcrest A-frame!!
Ladies and Gentleman,…………. (drum roll) ……………….. Introducing 3636 Northlake Drive!!!!
As featured in Atomic Ranch magazine, this A-frame speaks a love language unique to the tribe called mid-century modern. Its pure essence is divine while its dramatic angles have been worshipped around the world by social influencers and Air B&B seekers. To know it you must enter and be within it. You must feel the tongue and groove wood grain against your cheek. You must listen to the sunlight that sings an angelic song as it pours through the wall of windows and you must climb the steps to the tallest peak of the lofted room above the kitchen.
Do you hear the angels calling your name? They are beckoning you to the promised land of pure and simple architectural bliss. This isn't just a home, this is a work of art. A moment in time that you could wake up to everyday and enjoy. You are the creator of your world and look what you've just manifested – AN A-FRAME!!!!
Adorned with original features like the rainbow "beach ball" pendant light in the living room and the Hollywood bath that is always a fun conversational topic at the party! And oh my stars and stripes, Glenda, did you see the kitchen!?!? The timeless Poggenpohl design blends function with beauty – speechless!
But it just keeps getting better because downstairs you're going to find a FULL basement with a separate kitchenette and a 3 person sauna. Break out the Kombucha, it's time to get your cleanse on.
I know you're probably thinking "there will be more… " but I'm here to tell you there will NOT be more. There are only 11 of these mid-century A-frames in Northcrest and the stars have aligned with Venus over Mars in and around Aquarius at just 3 degrees to the west of Pluto. The Oracles have spoken and this is the last A-frame in Northcrest that will be listed for another century (or something like that)
—— record scratch——-
Ok, this just in: We've decided to buy this one, it's no longer for sale. We'll let you know when the next one is available in 20+ years. Sorry, better luck next time. We're kidding, but seriously, go cash in your bitcoin and pawn your Dad's Rolex. This is the last shot you'll have to be truly happy in life. And whoever told you money doesn't buy happiness is wrong, because money can buy you this A-frame and this A-frame = Happiness.
Open House Friday June 24th, 5-7 pm