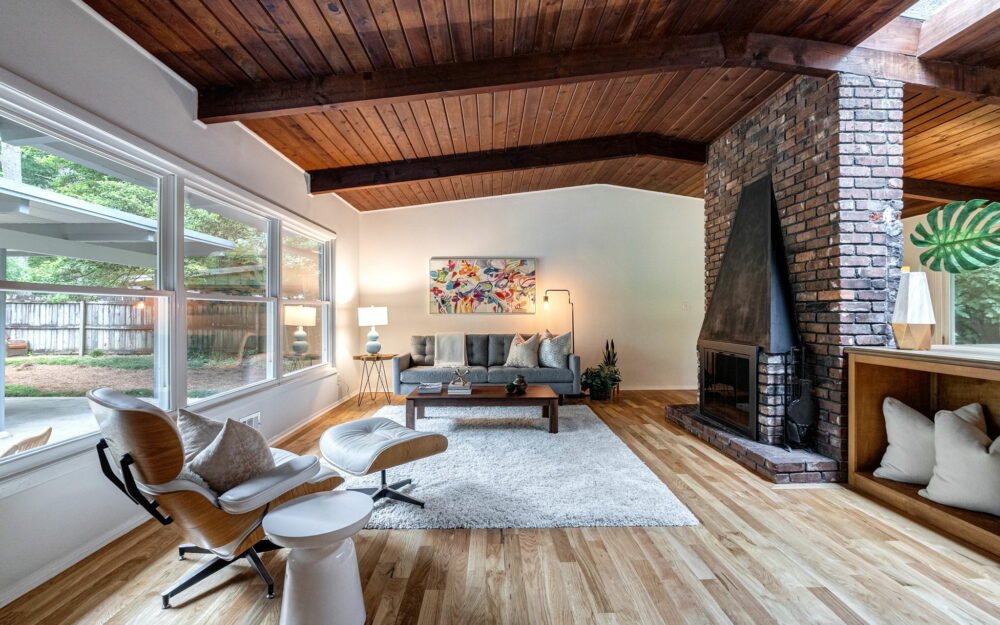 Northwoods Mid-Century
2792 McClave Dr.
Doraville, GA 30340
* * * SOLD * * *
If I were to tell you there was a mid-century modern home inside the perimeter, that was affordable, would you believe me?
Probably not.
That's because they're an endangered species.
Ok, grab the binoculars and pull on your safari vest, because we're about to go on an adventure to find an incredible, P&H built, mid-century home located in the Historic neighborhood of Northwoods, oh and it's affordable – gasp!
(Insert Australian accent)
As our Jeep pulls to a stop on the quiet loop know as McClave Dr. the banana leaves part and we see her – a 1958, majestic mid-century. She sit's quietly, nestled in her native habitat. Cautiously we approach her. Her orange plumage flashes vibrantly as we draw near. We slowly open the door, our heart ferociously beating in our chest and little beads of sweat collecting on our forehead.
Oh behold!!! Her interior beauty is a mixture of warmth and charm. Our gaze drifts to the original tongue and groove ceilings and then down to the 4″ oak floors! Moving through the living room we spot an exquisite brick fireplace that thoughtfully divides the dining room from the main living space. The kitchen is a mixture of retro, orange countertops and Birch cabinetry, adorned with black, modern hardware.
Standing at the sink we look out the window into the flat, sunny backyard and behold an undisturbed natural sanctuary with ancient trees and woodland creatures. What a magical setting that appears to be landlocked and unbuildable. Who wouldn't want to live on the edge of a nature preserve with shady paths and frolicking birds!?
Heading upstairs we find the owner's suite that has been completely renovated with a spacious walk-in closet and a modern bathroom that dreams are made of!
Our primal instinct kicks in. It's time to write an offer before the masses discover this rare beauty. We must lay our stake and claim her so that she is protected and loved for decades to come!
Don't miss the NEW 2020 HVAC and brand NEW hot water heater! Also, the upstairs laundry closet is big enough for a full size stackable!
OPEN HOUSE FRIDAY July 8th, 5-7pm