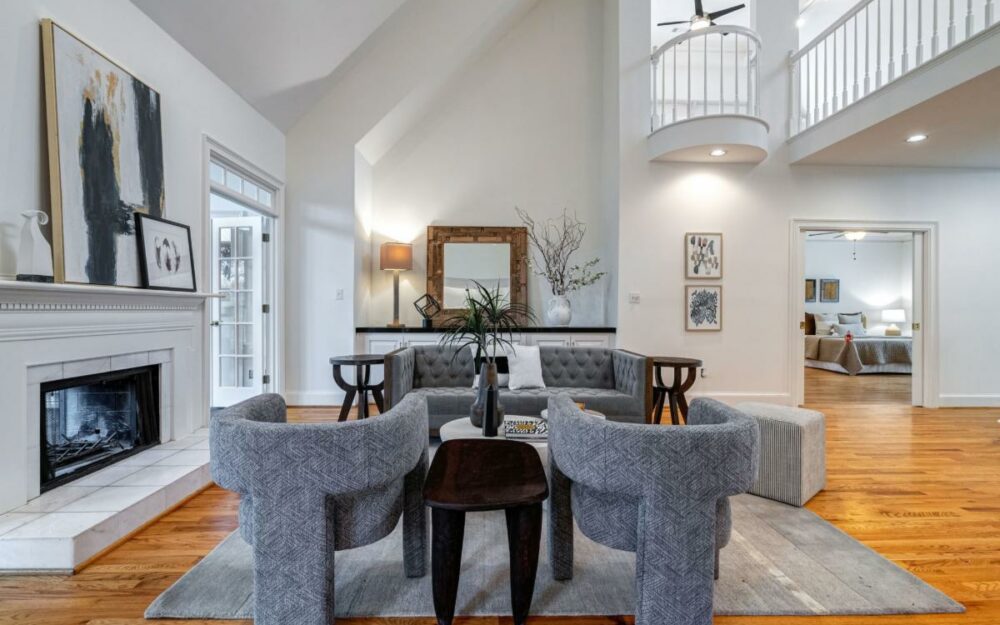 JUST LISTED!!!
2452 Kings Ct. Atlanta, GA 30345
5 bed 3.5 bath 2 car garage
Full Basement
Salt Water Pool
There she sits, all pretty in red while visions of sugarplums danced in her head. Look close in each picture, can you spot the ELF? She's hiding in corners, on mantle and shelf. If you blink you might miss her she's as small as a mouse. So scroll through these slowly, enjoying this house!
Don't you just love the Holidays? I mean, what's more fun than waking up at 5 am to the sobs of a 4-year-old asking why the "Elf on the shelf" didn't fly home to Santa because she's in the same spot? So much for remembering to move her the night before.
Welcome home for the holidays, where traditions are the glue that keep us together and the decorations take up half of the basement storage space. Speaking of basements, there's plenty of space for the in-laws to visit year round with their own separate entrance and full bathroom. You can enjoy some peace and quiet this year knowing the kids are tucked into bed upstairs while you relax in your primary suite on the main level as you enjoy a nice fire and watch all of your favorite movies in bed. You'll need to save up your energy for that amazing New Years Party you're going to host to show off this new home.
All of your friends will be green with envy while they stuff their face full of those BBQ holiday meatballs and take a tour, wine glass in hand. The "OOoooo's and AAaahhh's!!!" The "WOW!! We had no idea you have a pebble-tech, salt-water pool in the backyard!?" "Yes," you'll say. "It's even heated and the jets in the spa are incredible!" Your bitter friend will pipe in, "but there's an HOA, I just couldn't deal with all their rules and fees… " You'll laugh and explain there's NO HOA and the kids are able to walk to Henderson Mill School, right down the street. Don't you just love putting her in her place? She'll go on, "Well I'm sure your taxes are crazy, I mean with all this square footage, you must be paying over $10k in taxes?" "Nope, I only $6451 for 2022 taxes." You roll your eyes, who invited her to this party anyway?
Back inside the double fireplace is glowing and laughter fills the air. You love how the party is alive with friendship and fun, with the kids playing games in the basement. This house is everything you ever imagined, and more! You can't wait till it warms up and you can plant your veggie garden in the side yard and jump into the pool after working in the yard all day! Buying this in-town oasis was like winning the lottery. You were lucky enough to snatch it off the market right before the Spring rush! You've always been one step ahead of the crowd. Houses this big with new salt-water pools don't come along very often!! Thank goodness you went to that open house and made an offer before the weekend was over!! You're one lucky little Elf!!