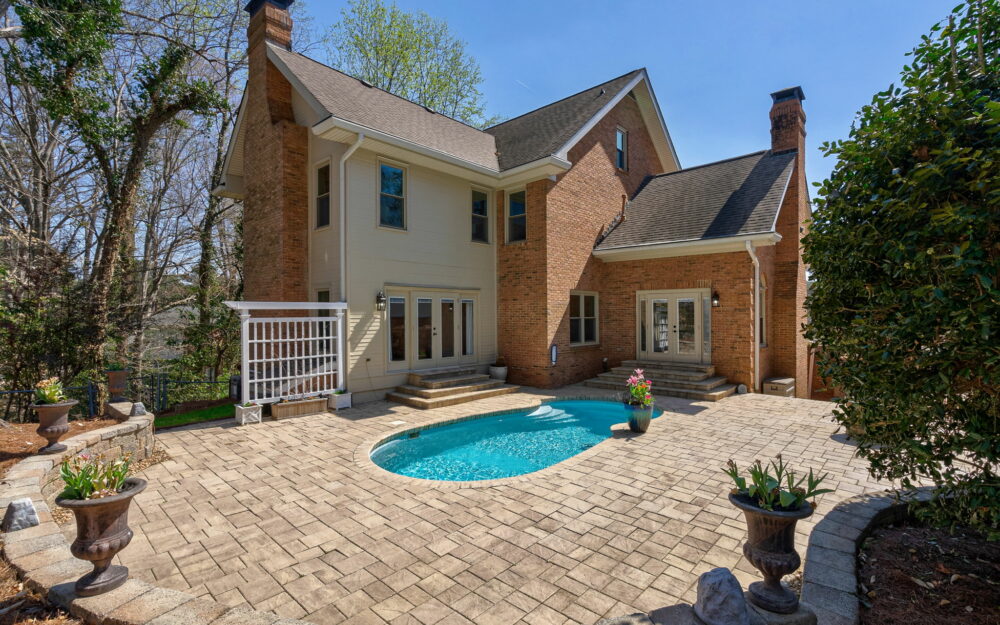 Act I, Scene I:
[The stage is set in Atlanta, GA, in the backyard of 2454 Kings Court NE. A large pool glistens in the sunlight. Enter Romeo and Juliette, two young lovers who have just closed on their first home.]
Romeo: Oh Juliette, my sweet dew drop, I can hardly contain my excitement! How doth the sun shine so brightly on our souls? I thought for certain we would have perished in the bloody bidding war for this castle! But now we are home and I plan to slide down the spiral staircase and then jump in the heated pool!
Juliette: Yes, my love. It's the perfect villa for us to start our new life together. With 4850 square foot of everything we have ever dreamt of. 'Tis perfection. I especially feel like myself on the the balcony overlooking the feasting hall. But I know you are most excited about turning the potential in-law suite into your very own home theater.
Romeo: But let us ne'er forget the 4th floor guest suite, where thine Lady Capulet can retreat.
Juliette: And we are within walking distance to the schools, for I hath something to tell you (she pauses) I am with child!
Romeo:  Alas, you have betrayed me and taken to another's bed?
[Romeo falls to the floor in a dramatic cry]
Juliette: Dry your soft and hairless face, it's yours!
Act II, Scene I:
Romeo: My beloved, let us have a grand celebration tonight in our new palace! Let us drink and celebrate the birth of our first born!
Juliette: O Romeo, hath thou lost thy mind. We can ne'er bring thy families together. Twixt them hatred abounds.
Romeo: But my love, twas 426 years ago in Verona. Wherefore they hither to thine new home and be bound as family, frolicking in the pool and dining on fine meats and red wines. And when thy Lady Capulet lays eyes on thy spacious kitchen and separate laundry room she shall rejoice and all will be well.
[They laugh and embrace]
And so the years pass. Romeo and Juliette's love continued to grow stronger. They raised three children in their beautiful home and watched them grow into smart, talented young adults. They attended their children's sporting events, dance recitals, and school performances, and cheered them on, every step of the way.
Their home was always filled with love and laughter, and their neighbors became their closest friends. They even started an annual block party, which became the talk of the neighborhood every year.
As they sat by their pool one evening, looking out at the beautiful sunset, Romeo turned to Juliette and said, "You know, my love, I never thought I'd be this happy. But here we are, living in our dream home with our beautiful family, and I couldn't be more grateful."
Juliette smiled and kissed him, saying, "I feel the same way. And with that, they watched the sun dip below the horizon, grateful that their love would endure for all eternity.
The End.