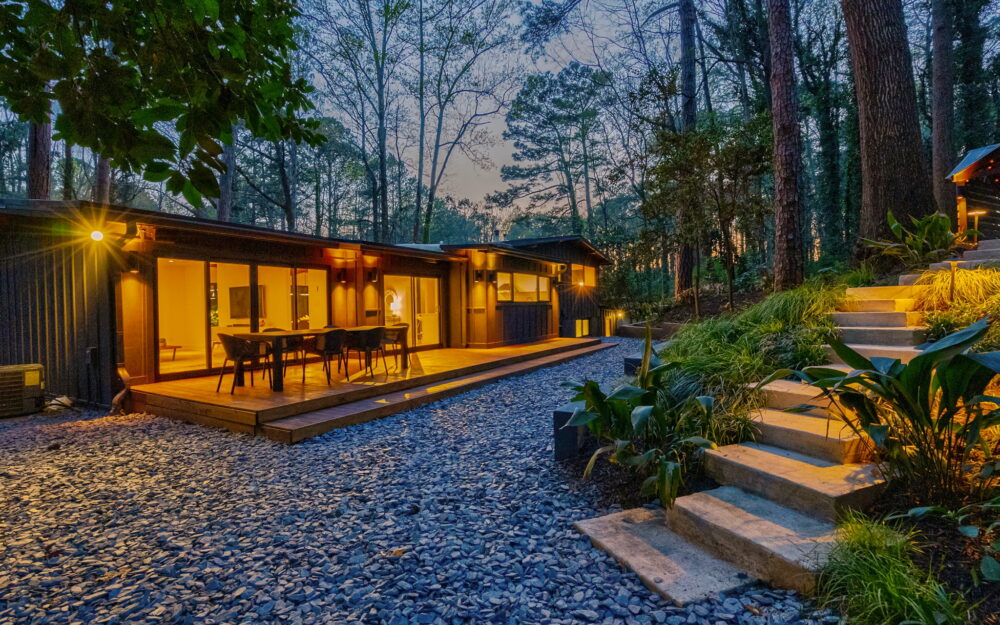 And so the Spring hunting season has begun…
The hunter, also known as the Homosapian Buyer, although timid, is armed with extensive knowledge of the metro Atlanta real estate market and has prepared himself for the grueling expedition he is about to embark on. The prize that he seeks: A perfectly designed and renovated mid-century exoticus. A rare species that has been cultivated by generations of design enthusiasts. It is known for its low pitch roofline, expansive walls of windows and simplicity unlike the common Traditional Maximus.
There have been whispers of a mid-century exoticus that embodies the essence of quality the hunter is looking for. He prepares his arsenal, strapped with cash, binoculars, a measuring tape and his pre-approval letter. He does his first slow drive-by. The air is thick with anticipation.
As he approaches the location, rumored to be hiding his prey, his heart starts to race and a bead of sweat forms on his brow. And then, he spots her. 3816 Valley Bluff Dr. she is majestic and alluring, silent but bold. He rolls down his window and lifts the binoculars to his eyes to take a closer look.
She is dark and mysterious, and he hears a whisper, she speaks the love language of universal design. Looking closer he spots her black, powder-coated, European style windows. Behind the glass, the hunter can see her living space. It is expansive with white oak floors, rich original tongue and groove ceilings and a sparkling modern kitchen. He knows he has found something truly special, a home that will leave a lasting impression. A home that will not be easily forgotten. A trophy worthy of housing his ego.
This rare species is extra special with its additional living space, full primary suite and huge attached workshop. The hunter notices the newer TPO roof and reinforced steel carport system with additional architectural lighting.
The backyard is a bird watcher's paradise with a modern floating deck, native shade gardens and a covered meditation pergola surrounded by a hardwood canopy.
Alas, this mid-century masterpiece will not be easily captured. She is a prize that many will covet, but only one will own. The hunter plans his attack. He will make the offer quickly and far more aggressive than any other. He has been preparing for this opportunity for over a decade. He slowly raises his index finger, aims, and with one click of the mouse, he has signed a killer offer that will make him the victor.
Multiple Offers – SOLD $725,000
FMLS: 7189158