A beautiful mid-century modern home located in the middle of the forest, the property at 2058 Amberwood Drive NE is a gem on the market today. It comes complete with plenty of original character and the peaceful surroundings we all crave after a hard day at work. In addition, it's within walking distance of a nature preserve!
A Rustic Getaway, Conveniently Located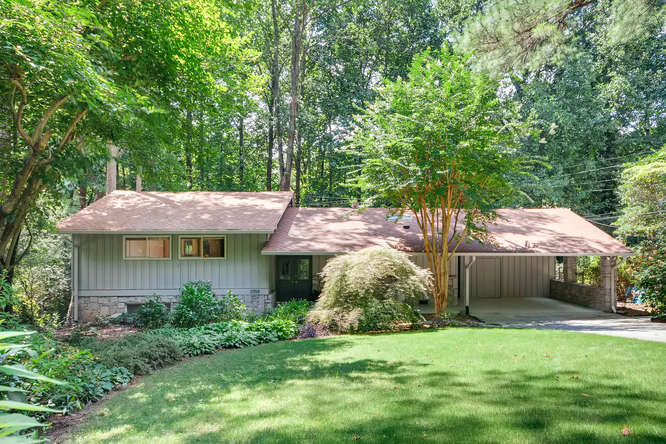 Located inside I-285, this property is one of the best mid-century modern options you will find when it comes to convenience. It's a rustic getaway with the best location in town. Found just minutes from Emory University, I-285, I-85, CDC and the Northlake Shopping Center, it's the perfect combination of convenience and escape.
The Home
The house found at 2058 Amberwood Drive NE includes custom wood screens, skylights throughout, granite walls, walnut paneled walls and iron rails. It's very original and will make you feel like you're living in a dream.
In addition, the home includes vintage tiling throughout the bathrooms, which makes it feel like it belongs in a museum. It's very unique and even looks brand new. Even the kitchen looks like it was recently created, yet makes you feel like you're stepping into the past.
It's a four bedroom, three bathroom home with very large bathrooms and a large amount of living space. The home also includes a multi-level deck making it feel a bit like it has a treehouse attached. If you enjoy watching birds and other wildlife, you'll be able to do it from this property without any issue.
Of course, the deck is also a great choice for entertaining with plenty of space for everybody to mingle. It feels like you're in the middle of the forest when you step outside onto the deck, which makes it a great place to relax, as well.
The home is a two story option with a great room, bonus room, family room and exercise room. The kitchen includes a breakfast area and a walk-in pantry, as well. There's even a beautiful fireplace to enjoy, along with a downstairs laundry room.
The home is a one-of-a-kind custom home and it was built in 1963. Those that love the work of Frank Lloyd Wright and Robert Green will love this home.
The Neighborhood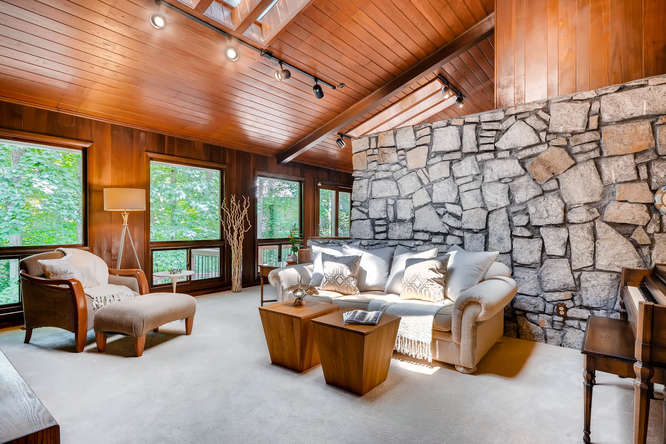 This specific home is located in Amberwood, which is in the Briarlake area. It's one of the best neighborhoods for mid century modern homes in all of Atlanta. You won't find any cookie-cutter homes here as all of them are very unique.
Many of the homes range from 2,500 to more than 4,000 square feet and come in at prices ranging from $300K up to more than $1 million. All 110 homes found in the neighborhood were custom built and many were designed by Robert Green. They were also all built in the 1960s.
The property at 2058 Amberwood Drive NE won't long. The location is one of the best you will find for mid century modern homes in Atlanta. It's close to the 21-acre Briarlake Forest and provides some of the finest architecture in the area.