A mid-century retreat with a swanky twist is what you'll find when you step into the home at 3824 Valley Bluff Drive. Coming in at $379K, this property is a unique option with the ability to excite. It's found in the historic neighborhood of Northcrest, which is one of the most desirable areas in Atlanta.
The Neighborhood
Northcrest provides a great place to live with plenty of unique bungalows, English Tudors and other styles of homes. It's a hidden gem when it comes to mid-century modern homes and provides an incredible multi-phase swim and tennis community with beautiful trees all throughout.
A Peaceful Resort
The property at 3824 Valley Bluff Drive provides a peaceful resort found within this beautiful neighborhood. Enjoy bird watching or just relaxing with plenty of tranquility around you. This mountain sanctuary gives you a feeling of calm as soon as you step into the home or outside onto the property.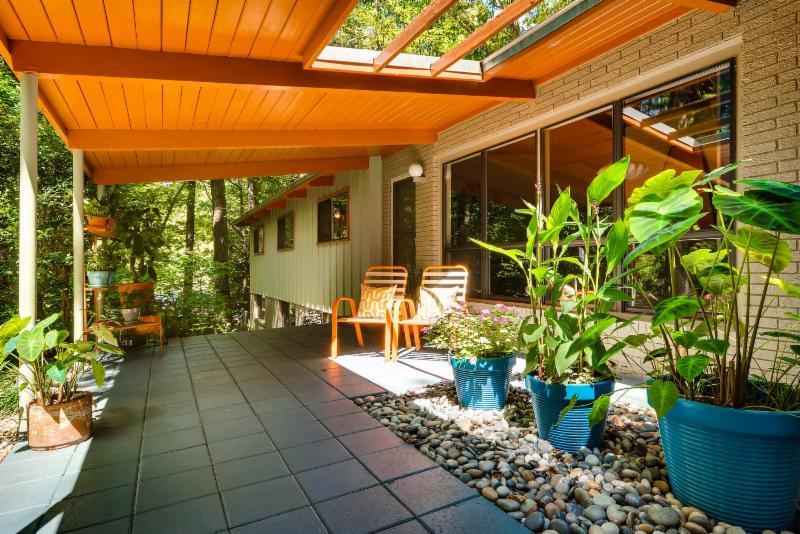 Enjoy your morning tea or coffee outside as you hear the birds chirping and the sounds of leaves gently blowing in the wind. This could be the secret to keeping you calm before you hit the metro Atlanta traffic on your way to work each day.
This specific mid-century modern home sits on one of the most private lots in the entire neighborhood. It's surrounded by mature trees providing plenty of privacy with incredible landscaping allowing you to enjoy the great beauty found throughout the property. You can enjoy meditating, performing yoga or even just the peacefulness of gardening without anybody around.
The House
A mid-century modern home with a glossy kitchen, retro touches and plenty to offer, this may be the coolest house you'll ever step foot in. It has been thoughtfully renovated to keep the true essence of the mid-century modern style, while providing the conveniences expected today.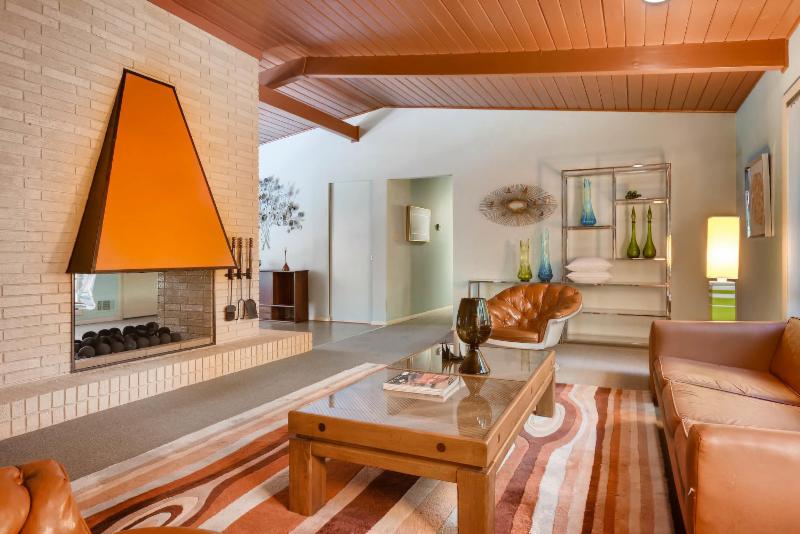 The floor plan is very rare with a double sided fireplace, a tiki bar and a full unfinished basement perfect for a workshop or as additional storage. The floor plan also provides a downstairs den, four bedrooms and three bathrooms. Overall, the home provides nearly 3,000 square feet of living space with a family room and a great room as a part of the floor plan.
The exterior of the home provides a beautiful covered patio with plenty of room for enjoying your morning coffee or tea. The property is completely surrounded by trees and nature giving it a feeling of serenity and a very peaceful setting. It has been well landscaped with a small water features in the back and plenty of unique plants throughout.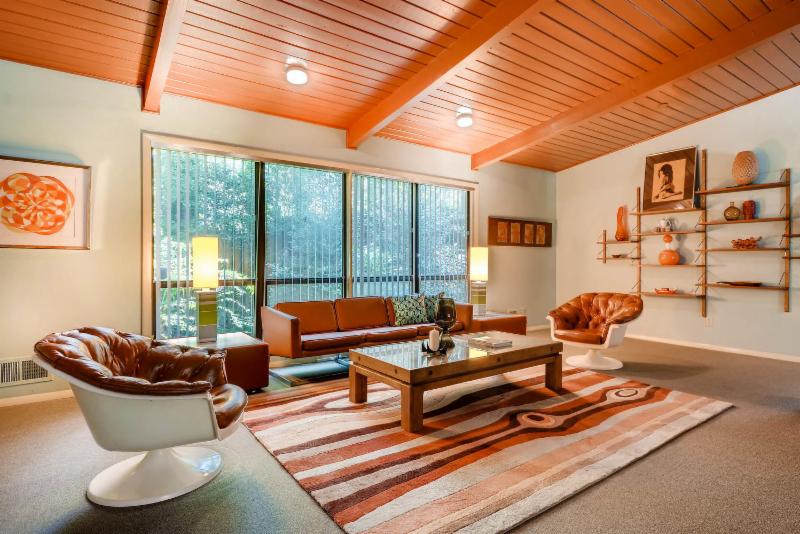 Whether you've been waiting for the perfect opportunity to enjoy Northcrest as your home or you've been searching for a true mid-century modern gem, the home at 3824 Valley Bluff Drive may be the perfect choice.
It's located in a wonderful area of Metro Atlanta offering easy access to everything you need, but why would you want to leave such a tranquil setting? This is one property you really need to see to believe how amazingly cool it really is. From the blue, modern kitchen to the tiki bar, every feature you could want in a mid-century modern home is found here.