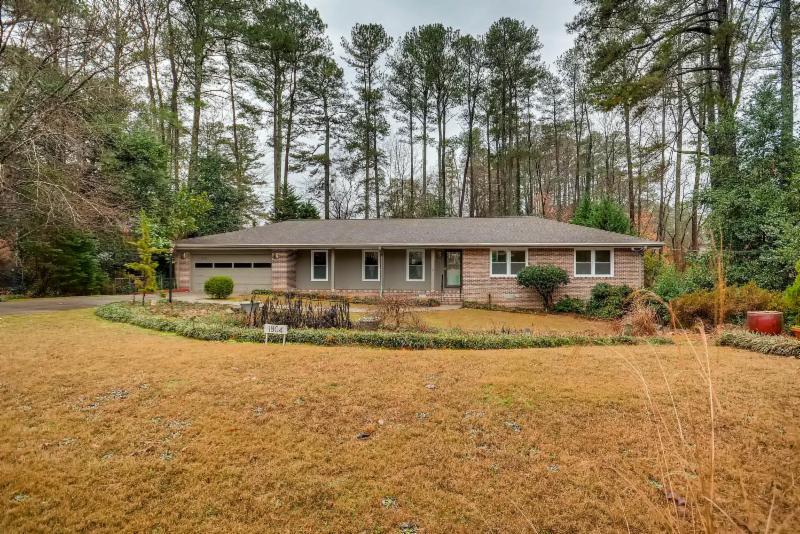 A beautiful, modern ranch-style home has just hit the market in Atlanta. The home found at 1804 Crestline Drive will be on display on January 21st from 2pm to 4pm as we hold an open house. We invite all interested parties to come out and see this beautiful home in person!
Modern Ranch with Mid-Century Modern Touches
The home found at 1804 Crestline Drive offers so much more than just some typical modern ranch home. It provides plenty of mid-century modern touches making it the perfect escape from the cold weather. You'll feel the warmth the minute you step into this beautiful property.
The home offers a modern kitchen complete with glittering white elements and an open concept design. The kitchen opens up into the dining room and the living room making it a great area for entertaining guests. The glossy wood floors are found all throughout and the bathrooms include new vanities, well-kept original tile and low flow fixtures.
Additional Space for Additional Fun
Maybe you've been dreaming of owning a home with space for a home office, a workshop or a yoga studio. The FULL partially finished basement may be the perfect space for you. It can easily become a fourth bedroom or serve for your latest hoppy. There's even more space with the unfinished section, which provides exterior access and has been professionally waterproofed. Use this area for storage and enjoy the peace of mind in knowing your things will stay dry.
Pet-Friendly Outdoor Space
Pet owners will also love this space because it provides plenty of room in the backyard for pets to roam. You can enjoy a cocktail or an iced tea while watching your dogs run free and enjoy the beautiful grassy backyard. Watch from the screened patio as they play and enjoy the outdoor space.
Great Location
In addition to all the amazing features this home offers, the location is one of the best you will find in Atlanta. The home at 1804 Crestline Drive is found inside 285 just minutes from I-85 and nearly walking distance to the Oak Grove market. It's also found very close to some of the top restaurants and shopping options.
The location also allows students to enjoy good schools with Sagamore Elementary, Henderson Middle School and Lakeside High School serving the neighborhood.
Home Specs
The home at 1894 Crestline Drive offers 3 bedrooms upstairs with potential for a fourth in the basement. Two full bathrooms are provides with one half bathroom and a separate laundry room. The home also includes a two-car garage.
The kitchen appliances are stainless steel and very modern. A fire place is found in the living room and the bathrooms are all well designed with plenty of modern features and touches.
If you're looking for a new, beautiful home in Atlanta, this may be the perfect choice for you. Come out and check out the property at 1804 Crestline Drive on January 21st from 2pm to 4pm. If you can't make it for the open house, you can always set an appointment for a private showing.