When you want to go for a hike and you don't want to leave your four-legged pal home, you need a good dog-friendly trail. Atlanta offers a number of great places to take your furry friend for a hike. Before you head out to hike with your dog, you want to know a few things first.
Make sure you have a good leash and harness to ensure your dog won't get off the leash when other wildlife may be present. In addition, you want to make sure you take water with you for your dog as they will need it, too. You can get a collapsible water dish to make it easier.
If you're ready to head out for a great hike with your dog, here are some of the top dog-friendly trails in Atlanta to enjoy.
Morningside Nature Preserve
At Morningside Nature Preserve, you can enjoy a two-mile hike with your dog. Your furry friend will love the sandy beach found on South Peachtree Creek and you will love the amazing scenic views.
Kolb Farm Loop
Found at the Kennesaw Mountain, this 5.8-mile loop is great for those with dogs capable of walking this far. The Kolb Farm Loop even offers a built-in dog bowl about half-way through for a drink. As you hike, you can enjoy the beautiful forest and meadows along with the Civil War battlefields. Your dog will like that the trails are sandy and compacted with dirt, so they will be easier on their paws.
Homestead Trail
A 5.3-mile hike perfect for dogs and humans, the Homestead Trail offers a great choice at Red Top Mountain. Dogs will love the water found along the trail, while humans will enjoy the lake views and the incredible views.
Arabia Mountain Trails
You can choose your own adventure at the Arabia Mountain Trails. Go from one to 30 miles on your hike and let your dog enjoy the wide-open areas, meadows, forest, lakes and so much more. This is one of the top spots for hiking and biking in the Atlanta area.
Sweetwater Creek Trails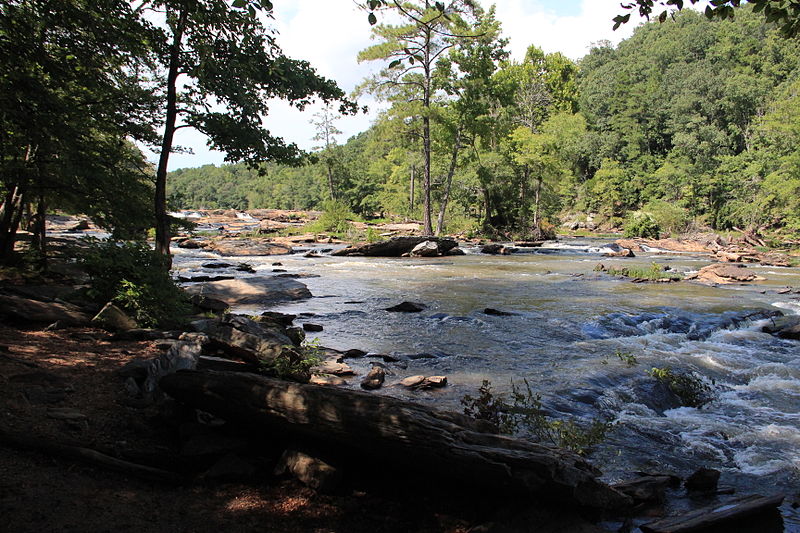 There are four hiking options at the Sweetwater Creek State Park ranging from two to six miles in length. Dogs can even enjoy a post-hike swim in the lake. Enjoy beautiful forest landscapes and plenty of wonderful views of the whitewater-filled creek along the way.
Vickery Creek Trail
With more than five miles of hiking options, your dog can enjoy a sandy swimming beach along the way and you can enjoy the view of the spillway waterfall. The waterfall is a great spot to let your dog take a swim during your hike, as well. There's a covered bridge and two Civil War mills found here, too.
Hiking doesn't have to mean you leave your furry friend at home. Many dogs are capable of hiking for miles, as long as you bring water and treats for them. If you want to take your dog out for a wonderful hike, choose one of the top dog-friendly hiking trails in Atlanta listed above.