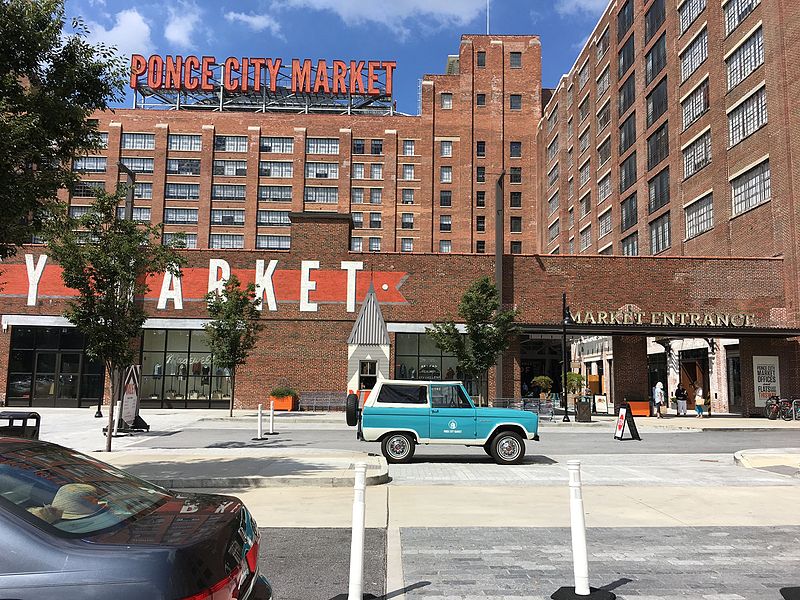 The Ponce City Market offers a porch next to the Atlanta Beltline that is ready to host all types of great events. There will be several excellent choices to enjoy all summer long and the events have already started. The porch is called "The Shed" and it's ready to become a hot spot at the market. Here's a look at what's coming up.
Ponce City Farmers Market
Every Tuesday from 4pm to 8pm, this market is filled with artisan culinary experts, urban farmers and other local food providers and preparers. The market will also be adding a monthly pop-up to include workout classes, such as "Turntable DJ Yoga" and pet adoptions. It's curated by the Community Farmers Market and provides an open-air event that will run into October.
The Helpful Hot Dog
A unique event hosted by The Mercury, The Helpful Hot Dog is a porch-side event with unique hot dogs. The event is organized to help Metro Atlanta's restaurant workers struggling with issues, such as addiction, mental health issues and substance abuse. The last Saturday of each month will include a guest chef.
WonderFoot Artists Market
If you love local art and you want to enjoy an outdoor shopping experience, the first Sunday of every month is your time to head to Ponce City Market. This porch-side event will run from 12pm to 6pm and will include plenty of great works of art on sale for those looking to purchase.
The vendor fee collected from this event will help to support the WonderRoot's creative youth development programs. Free tables are given away to two makers to help provide an opportunity for the most underrepresented artists in the city.
King of Pops Trivia

Enjoy popsicles while you compete in a trivia contest every Wednesday at 6:30pm. This event is put on by Dirty South Trivia in partnership with King of Pops. Trivia prizes will include PCM-specific rewards and the trivia is expected to be rather adult.
Lululemon Sweat Shed Series
Starting in May, a High Intensity Interval Training course will be provides every Thursday at 6:30pm. It's a free course and will be led by some of the most elite trainers in the city.
Of course, The Shed isn't the only venue in the Ponce City Market holding events. Some of the other events you can enjoy at the market include:
Candlefish BYOB Workshop – Thursdays and Fridays 7pm, also 3pm on Fridays and other special times
Pasta Making Class – May 21st, 24th & 29th, 6:30pm
Brian McKnight in Concert – May 31st at 10pm
Kevin Nealon – May 12th at 7pm & 10pm
Legos + Joe with MODA – May 19th at 1pm
Morgan Heritage – May 22nd at 8pm
Vivian Green – May 26th at 7pm & 9:30pm
Rhen's Nest Board Games & Brew Night – July 17th & August 21st at 5:30pm
And More!
Many other events are being added to the calendar for the Ponce City Market. You can check the schedule for more details here. http://www.poncecitymarket.com/events/