Whether you sleep under the stars as you're camping in North Georgia before your hike or you just head out for a day of hiking, there are plenty of great North Georgia hiking options. The mountains, waterfalls, lakes, rivers and forests make this area of the state the best you'll find for hiking. Here's a look at a few of the top choices when you want to hike in North Georgia.
Long Creek Falls
Just under 2 miles round trip, this is a very easy hike and it's dog-friendly. You'll get to enjoy plenty of beauty as this is a portion of the Appalachian Trail in Georgia. Of course, you'll also get to discover Long Creek Falls.
This hike is found near Ellijay, Georgia and offers plenty of great scenery. The creek, the falls, the forest and all the other scenery make this one of the best hikes to enjoy in North Georgia.
Grassy Mountain Tower Trail
A longer hike at 5.3 miles round trip, Grassy Mountain Tower Trail is dog-friendly. It's one of the best hiking options in North Georgia because of the beautiful views of Lake Conasauga, Fort Mountain and the Cohutta Wilderness. Enjoy this glassy mountaintop lake and the many incredible views from this trail.
The fire lookout tower offers incredible views as it rises above the tree line. You can climb the tower, which is found at the summit and enjoy some of the finest views of North Georgia.
Jacks River Falls
The Beech Bottom Trail and Jacks River Trail offers a nine mile round trip, dog-friendly hike. This hike will allow you to enjoy the Jacks River Falls, which is a rocky waterfall and one of the most popular in North Georgia. It's an exceptionally beautiful hike with plenty to offer.
Enjoy the lush river banks, huge hardwood trees and remote waterfalls found throughout this hike. It's a bit of a longer hike, but it's worth every step.
Amicalola Falls Trail
A 2.1 mile round trip hike with difficult terrain, this is a hard hike for dogs. Amicalola Falls Trail offers a view of the tallest waterfall in Georgia when you reach Amicalola Falls. You can also enjoy great mountain views from the East Ridge Trail and the Appalachian Approach Trail Loop here.
The falls cascade over multiple tiers from more than 730 feet high. You'll enjoy the beauty of the falls, but be aware; this is a hike with steeper terrain and a higher level of difficulty.
Panther Creek Falls Trail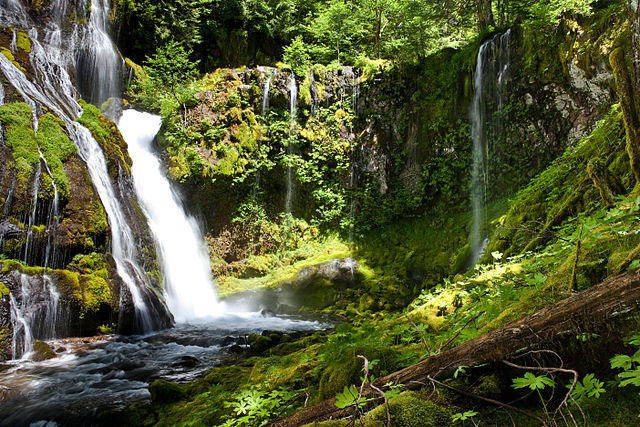 Heading to Panther Creek Falls will allow you to enjoy one of the most beautiful waterfalls in Georgia. It's found within the Chattahoochee National Forest and offers plenty of fun. The trip is 6.9 miles round trip and it's very challenging for most dogs. This is a difficult trail compared to some of the others on the list.
These are just a few of the top choices for North Georgia hiking. There are dozens of amazing trails perfect for hiking in North Georgia. Whether you want to climb to the summit of a mountain or enjoy beautiful waterfalls, you'll find it here.