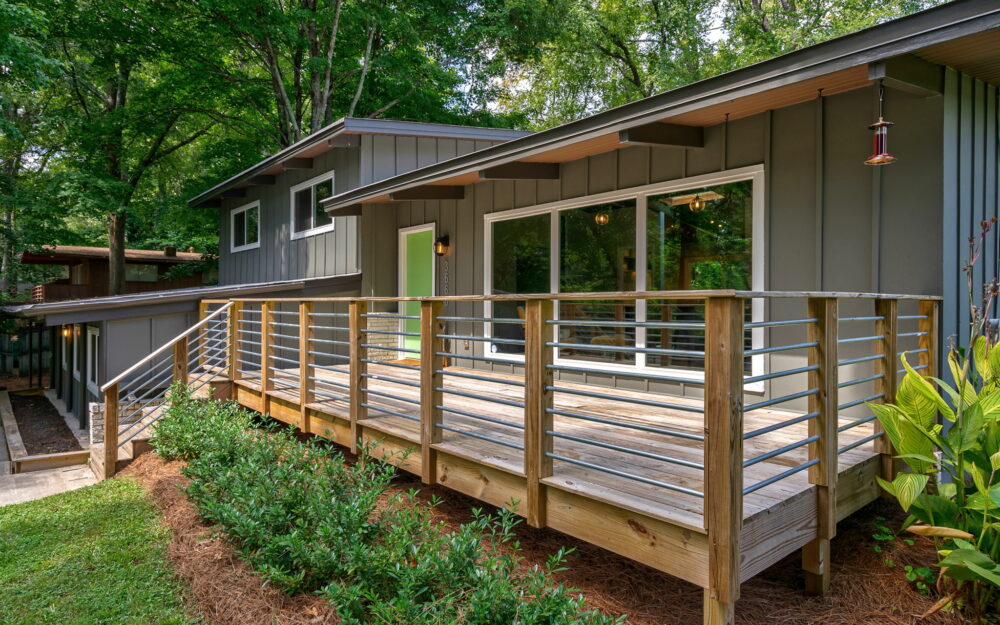 * * SOLD * *
3660 Northlake Dr, Atlanta, GA 30340
4 bed 3 bath
Do you wear skinny jeans, chinos with no socks and a beanie in summer? Do you subscribe to progressive thinking, appreciate abstract art and indie-rock? If you're an intelligent, witty individual with killer taste and a creative mind-set this might be the home you've been looking for.
Why does it seem like every 1960's house is being marketed as a "mid-century modern" these days? But you're smarter than these so called Realtors, and you know that just because it was built in 1960, does not make it mcm.
Behold, 3660 Northlake Drive, a REAL mid-century modern split-level with a low-pitch roofline, elongated brick and preserved T&G ceilings that haven't been painted! Pulling into the driveway, your electric car floats into the double carport seamlessly and you realize, this must have been a premium lot when the house was built, back in 1963. It's almost half an acre of totally flat terrain with mature trees and hummingbirds buzzing around the front deck waiting to welcome you home. You can already imagine your CB2 Adirondack chairs placed on the front deck with a side table and two frothy PBR's.
Behind the turquoise front door there is a calm, an open floor plan that sings an acoustical melody as the light filters in through the big picture windows. You sit down in the Eames lounge to take it all in. Truthfully you don't have to see any more. You're done. This is it.
Oh, but the kitchen, if there ever was a kitchen that would make you forgo DoorDash and take up that Paleo diet your annoying friends have been chirping about. Maybe the new stainless refrigerator will help you become a vegan!? The timeless grey shaker cabinetry and the hand glazed backsplash… and the window looking out into the backyard. Wait, is that a legit TREEHOUSE? Can someone say "sleepover parties with with all night drum circles?!" You could host a mini Burning Man weekend and sleep in the magical treehouse!!
Back inside you notice the Nelson light fixture over the dining room table and want to explore the rest of this Northcrest gem. Upstairs there are three bedrooms, generous closet space and two recently renovated modern bathrooms. Your friends are going to be so jealous. Heading downstairs to the den you find another bedroom and a wet bar tucked behind the stairs. The bonus indoor/outdoor room is big enough to store your electric bikes and scooters. You could even turn half of it into a wood working shop so you can start creating those hand-carved exotic wood cutting boards.
This mid-century modern split level checks all the boxes on your list and with the costs of materials and labor going up daily it would be impossible to find a fixer upper and renovate it for the price of this home.