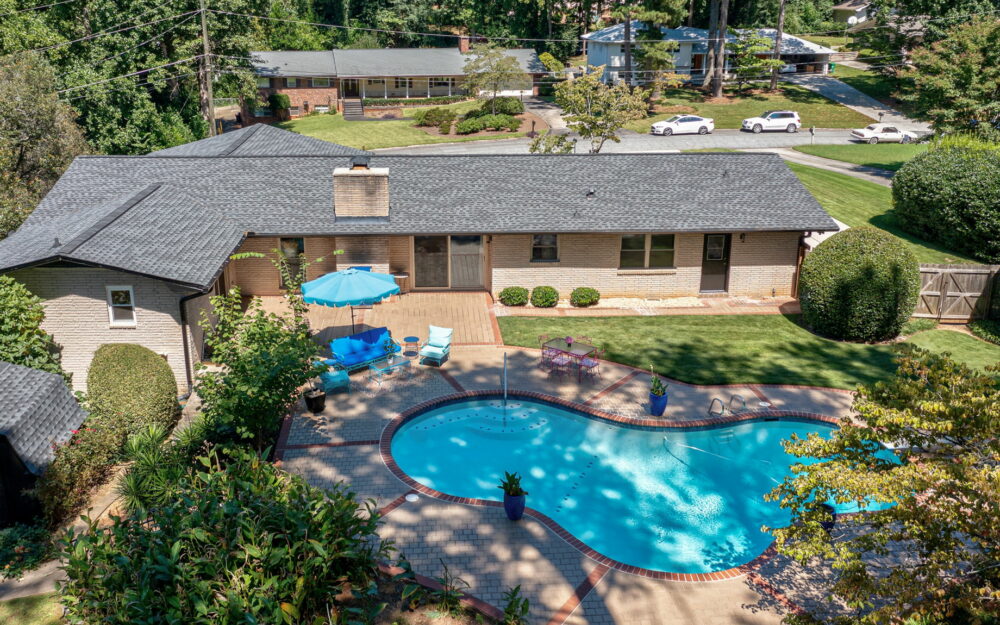 2933 Braithwood Ct. Atlanta, GA 30345
4 bed 3 bath
* * * SOLD * * *
What do Frank Sinatra, Sammy Davis Jr. and Dean Martin all have in common? They would have loved living at 2933 Braithwood Ct.
Grab your martini, light a cigarette and let's take a tour of this glamorous mid century oasis.
Pushing past the double glass doors you're greeted by a dramatic foyer with slate floors, a vaulted ceiling and metallic wallpaper. You might need to pause here and take a sip of your martini, if the rest of the house is half this impressive, you're going to have a problem, you weren't planning on buying a house today.
But wait, what's that bright, glistening room to the right!? The formal living & dining space with it's wall of windows, wood floors and fresh paint, Did someone say it's cocktail hour?! Who's turn is it to shake up another batch of martinis? Imagine all the dinner parties you'll be having for years to come, oh and the vintage, tinsel, Christmas tree would look amazing right in front of the bank of windows. This is definitely a home for the holidays!
Through the swinging door you discover the kitchen and check out the spacious laundry room that can easily double as a walk-in pantry! Wait, is that a two car garage? Oh the storage, the glorious storage!! And look there's only one step into the breakfast nook. You could literally live in this house forever. The retro kitchen isn't huge, but you are more of a go-out-to-dinner kind of guy anyway, and it's the perfect set up for breakfast and lunch. You can even get some work done at the built-in desk before you start sipping on your afternoon Manhattan.
Speaking of which, I think it's time for another drink… Oh look, are those new windows!? The cozy den features solid birch paneling, original built-ins and the most glorious, masonry, wood-burning fireplace. What's that, past the double sliding door? Is that what you think it is?
A picture perfect, walk-out backyard, drenched in sunshine, happiness and topped off with a salt water POOL?!?! With all new pool equipment, mature landscaping and plenty of privacy, it just doesn't get any better.
Actually it does. What if I were to tell you someone else could help pay for all of this. Would you believe me? This mid-century ranch features a full apartment suite in the basement with it's own separate entrance, kitchen, washer dryer and patio. So you can supplement your lifestyle with all the additional income you're going to make from having a short term rental in your basement.
I think that calls for a celebration. Who's turn is it to make drinks?!
Don't miss the NEW, high capacity, HVAC, new insulation in the attic, topped off brand NEW roof! Easy living and low maintenance is the name of the game, which is good, because you'll want to be spending most of your time outback enjoying the Pool.