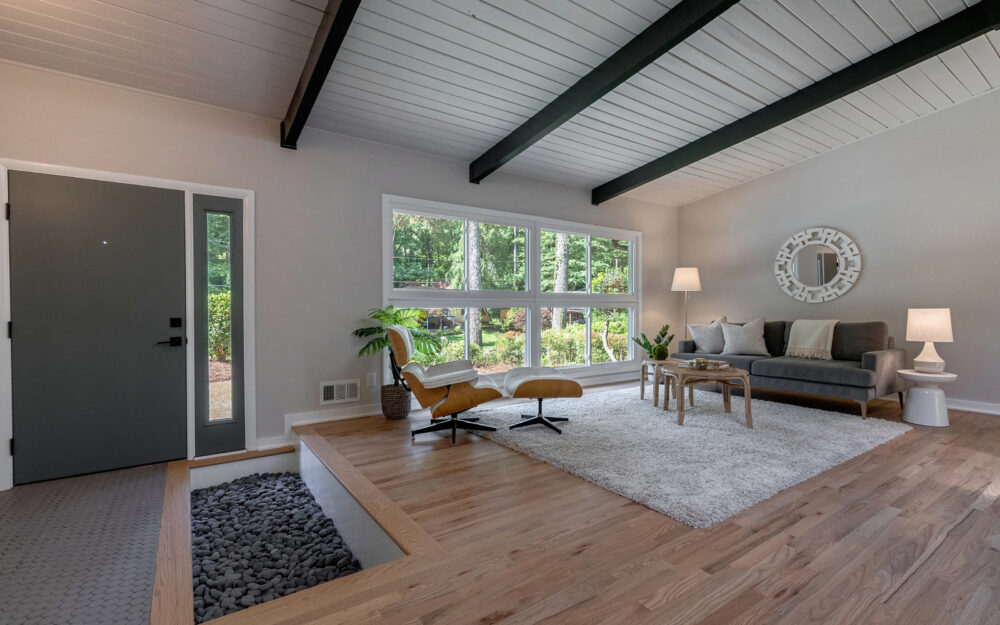 Open House Saturday, June 10th 2-4pm
Every morning, as you wake up and reach for your phone, you find yourself immersed in a sea of old, dusty listings, searching for that triple-shot-of-espresso, blow-your-socks-off, renovated mid-century muse. It has become a daily ritual, lying in bed with one eye open, yawning for something extraordinary. You've sifted through countless overpriced, underwhelming houses. But today, as if by fate, your email inbox has decided to give you something different.
There's a reason why you're seeing this listing. You possess an innate sense of style, you're as cool as a cucumber on the 4th of July, and the algorithm has taken note of your innate cool factor and delivered a house that's actually worthy.
WARNING: This house is rated X for EXTRA-cool. You must be 18-years or older to continue reading.
As you step inside, you're embraced by an abundance of natural light cascading through the new picture windows, bathing the interior with warmth and radiance. The oak floors are light and elegant, while the inviting white walls pay homage to a Danish modern aesthetic. During the renovation, a sunken planter was discovered and lovingly restored, infusing the space with a touch of history and character.
The modern kitchen will exceed all your wildest fantasies with its robust, masculine, espresso slab cabinetry and organic (or should I say orgasmic?) leathered countertops that form a striking juxtaposition, against the Italian tile backsplash. Is it starting to get warm in here, or did someone turn on the gas to that slide in range?
Venturing downstairs, you'll discover the supple paneling and trim that's been hand rubbed to bring out its robust vertical lines. The wet bar (no joke required) seamlessly blends nostalgia with contemporary comfort, who needs to cool off with an ice cold Negroni? Under your bare feet you feel the smooth designer carpeting creating an idyllic setting for entertaining your guests as you relish in the warmth of the original brick mid-mod fireplace (clothing optional).
Need some fresh air? Step outside into the backyard, where a charming bridge beckons you towards a mature persimmon orchard. Imagine the joy of indulging in sweet, ripe persimmons this fall, the juice trickling down your chin. Nature is full of delicious surprises!
Renowned as one of Atlanta's hottest neighborhoods, Northcrest rarely showcases such immaculate renovations. Every aspect of this home has been executed to perfection. It's like that little black dress that hugs your body just right and never goes out of style.
Ok, enough fantasizing. It's time to get out of bed and buy the sexiest mid-century modern you've ever laid eyes on.
Oh no, it might be too late…. it seems I've fallen victim to my own marketing! Well, consider this your official invitation to the housewarming party. No gifts necessary, just bring your game of twister!