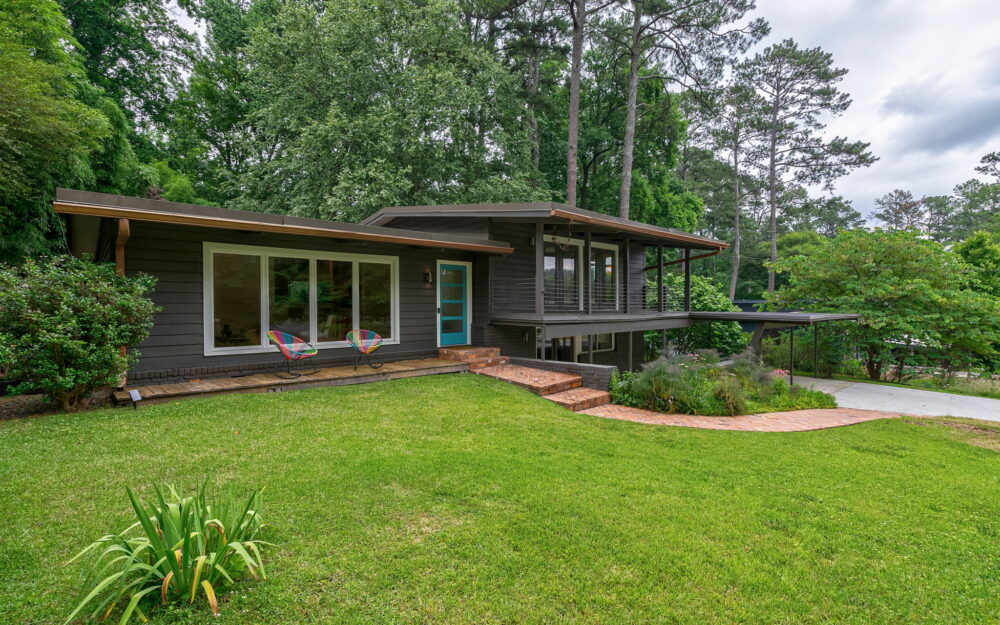 Close your eyes and imagine…
yourself living in this beautiful 4-bedroom, atlanta mid-century modern home, in the picturesque Northcrest neighborhood. The moment you step through the turquoise front door, a world of possibilities unfolds before you. Vaulted ceilings, oak floors, and an open floor plan, all setting the stage for your wildest dreams to manifest.
As you venture into the private backyard, a sense of tranquility washes over you. The rustling bamboo whispers your name as you walk across the hand-laid brick patio, leading you to a separate yoga studio equipped with electricity and air conditioning. Stretching towards the heavens, you find gratitude, embracing the stillness within your heart feeling the urge to do a sun salutation.
Back inside…
you'll discover three generous bedrooms, each adorned with vaulted ceilings that evoke an airy and spacious ambiance. However, the true marvel awaits in the "Hollywood Bathroom" with its original pass-through shower. This delightful feature, available as a $200 upgrade in 1963, adds a touch of vintage sophistication, making it a fascinating conversation piece. The original tile work inspires you to unleash your inner retro enthusiast. Consider adorning the walls with vintage-style wallpaper and documenting the transformation on TikTok, where your creative talents capture the attention of an HGTV producer, propelling you to stardom. Who knows, you might even collaborate with Wayfair.com to curate an exclusive decor line. Shelves adorned with mid-century modern fixtures and faux flowers, all inspired by the nostalgic charm of your 1963 dream home.
Now is your time…
today is your day. Your new chapter is awaiting at 3676 Northlake Dr. Your journey to becoming a YouTube home DIY star starts right now! Take hold of your agent's hand and let's make this dream a reality. P.S. We have a small request regarding royalties for your Wayfair decor line, which we can discuss further after the closing.
OPEN HOUSE SATURDAY June 10th, 2-4pm
3676 Northlake Dr. Atlanta GA 30340
$540,000