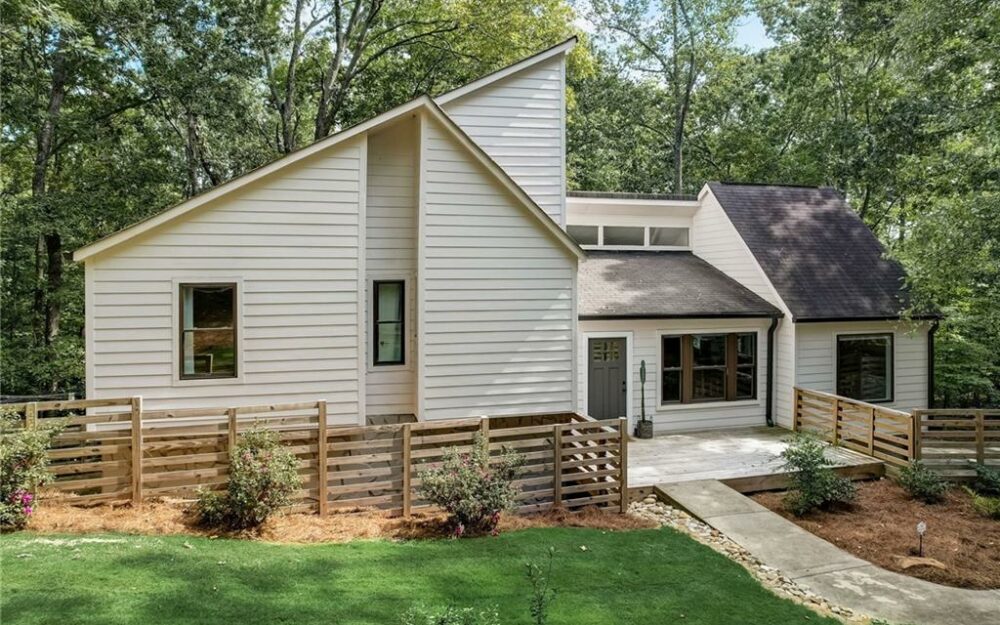 OPEN HOUSE  Thursday October 12th  5-7 pm & Saturday October 14th 2-4 pm
Meet 990 Pine Grove Point
nestled just three miles from vibrant downtown Roswell. This home is more than stylish — it's soul-stirring. Born in the 1970s, this residence recently transformed into an artistic and bohemian haven through a tasteful makeover.
As you enter, you'll notice it doesn't just look younger; it feels renewed. The moment you pull into the driveway, nature whispers its welcome. Woodpeckers tap gently. Squirrels converse in the treetops. A doe glances at you before disappearing gracefully into the wooded backyard, leaving you with a quickened heartbeat and a smile you can't help but wear. With its prime position on 1.16 acres, 990 Pine Grove Point combines modern appeal with timeless elegance.
Its new Hardie Plank siding is dressed in a coat of creamy white, accented with strokes of velvety black trim. Open the door and you're greeted by the warm on-site finished oak floors that extend upstairs in all bedrooms and are topped off with custom 5" baseboards. The main living room is an experience of elegance, natural light, and effortless style that flows seamlessly into an open kitchen, a canvas for precious family moments to unfold. White quartz countertops glisten, accompanied by ample cabinet space, a built-in pantry, and an extended dining banquet ready for your celebrations.
Upstairs, a whisper of divine relaxation beckons you. Enter a shower experience that feels less like a bathroom and more like a personal retreat. With dual shower heads, the calming essence of lavender wafting through the air, and the elegant embrace of Carrera marble walls, it's not just a shower—it's a daily escape into luxury and comfort.
In the warm and cozy basement you'll find the 4th spacious bedroom, perfectly positioned for the overnight guests with it's en-suite bathroom. The downstairs den that acts as the grand gateway to…wait for it… a fire pit extravaganza! With cafe lights twinkling above and autumn breezes dancing through the leaves leaves, it's so cozy it screams sweater weather. Literally, you can hear it faintly whispering, "Throw on a cardigan, these marshmallows aren't going to roast themselves!"
At the end of the day, you deserve to live in a beautiful home that's true to your vision of what a sanctuary should be. And so, with open doors and a heart full of stories, the house at 990 Pine Grove Point awaited its next chapter, ready to embrace those who would call her home. Under the watchful eyes of the twinkling stars above and the whispering trees that stand firmly rooted. Step in, let the magic unfold.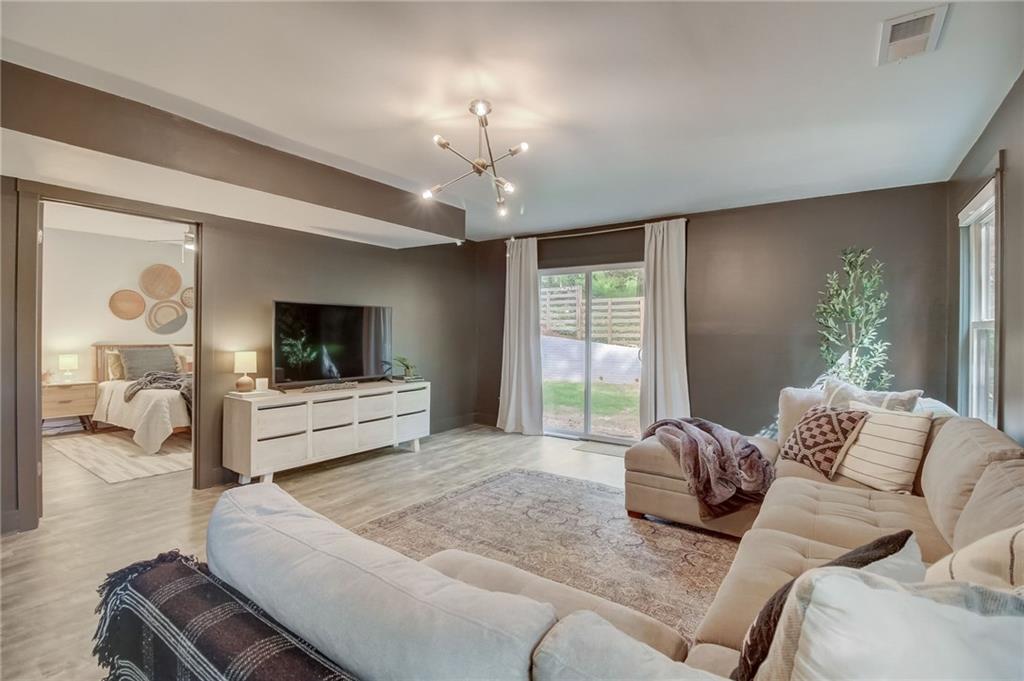 990 Pine Grove Pointe Dr, Roswell, GA 30075
4 beds        3 baths        2 car garage          1.16 acres        no HOA
Listed for $600,000