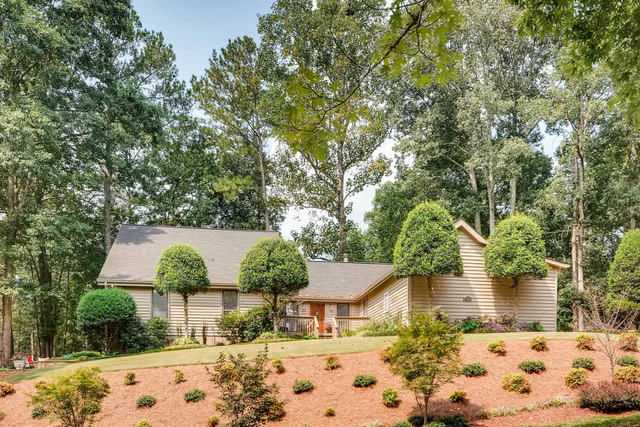 The Loch Highland neighborhood is a quaint haven in the city of Roswell, Georgia, that stands as a testament to the timeless appeal of suburban living. This charming community has captured the hearts of its residents and garnered a reputation as one of the most sought-after neighborhoods in the region. Loch Highland offers a unique blend of natural beauty, excellent schools, a thriving sense of community, diverse housing options, and proximity to downtown Atlanta. In this comprehensive guide, we will delve into what makes Loch Highland so special, detailing why people adore living there, the quality of its schools, recreational opportunities, the housing market, and the convenience of being just a stone's throw away from the vibrant heart of Atlanta.
The Allure of Loch Highland
What sets Loch Highland apart from the rest? It's a question that can be answered in many ways. The neighborhood boasts a unique combination of features and amenities that have turned it into a haven for those seeking a high-quality suburban lifestyle:
Scenic Beauty
Loch Highland is a place of natural beauty, characterized by lush greenery, rolling hills, and serene lakes. The streets are often lined with majestic trees, offering shade and creating a picturesque atmosphere. The neighborhood's dedication to maintaining its green spaces ensures that every season brings new delights, from the vibrant colors of spring to the warm hues of fall.
Sense of Community:
Loch Highland prides itself on being a close-knit community.  From neighborhood-wide yard sales to seasonal celebrations, residents have plenty of opportunities to come together and build lasting connections. Residents frequently come together for social events, block parties, and neighborhood initiatives. This strong sense of camaraderie fosters a welcoming atmosphere, making it easy for newcomers to integrate and establish connections with their neighbors.
The Educational Advantage
Loch Highland attracts families because of the outstanding schools in the area.  A strong commitment to education is a hallmark of the community, and residents can access various educational options, both public and private, that ensure their children receive a top-notch education.  Within the Fulton County School District, which is renowned for its academic excellence, Loch Highland is home to several well-regarded schools:
Sweet Apple Elementary School: Sweet Apple Elementary is the neighborhood's public elementary school and is celebrated for its dedicated staff and strong academic programs.   The student population of Sweet Apple Elementary School is 659 and the school serves PK-5. At Sweet Apple Elementary School, 81% of students scored at or above the proficient level for math, and 81% scored at or above that level for reading It provides a nurturing environment for young learners and is known for its commitment to student success.
Elkins Pointe Middle School: For students in the middle grades, Elkins Pointe Middle School is a reputable institution that excels in academics, sports, and extracurricular activities.  The student population of Elkins Pointe Middle School is 990 and the school serves 6-8.   The school prepares students for high school and beyond, focusing on holistic development.
Roswell High School: Roswell High School is the primary public high school serving Loch Highland. It has a strong academic reputation, offering a wide range of honors, AP, and IB programs.  Roswell offers a unique curriculum with many electives not offered anywhere else in the county. The school's unique course offerings include the Career Tech diploma track, robotics, psychology, archaeology, and foreign languages.  Students can excel academically while participating in various extracurricular activities, including sports and the arts.
Private and Parochial Schools: In addition to the public schools, Loch Highland is home to various private and parochial schools that provide parents with even more educational options. These schools are known for their small class sizes, rigorous academic programs, and a strong sense of community.
Families are drawn to Loch Highland for its exceptional schools. The neighborhood falls under the esteemed Cobb County School District, known for its commitment to providing a high-quality education. Loch Highland residents are served by several well-regarded schools, both public and private, ensuring an excellent education for children.
Recreational Paradise
The neighborhood's natural beauty and proximity to the Chattahoochee River provide a wealth of opportunities for outdoor enthusiasts.  The Chattahoochee River, which flows near Loch Highland, is a haven for outdoor enthusiasts. The park offers extensive hiking and biking trails, picnic areas, and access to the river for fishing and kayaking. The serene, natural beauty of the river and its surroundings provides an ideal backdrop for leisurely strolls and outdoor adventures.Hiking, biking, kayaking, and fishing are just a few of the activities residents can enjoy.
Loch Highland itself boasts several parks and green spaces that are enjoyed by residents of all ages. These parks feature playgrounds, sports facilities, and scenic walking trails. Families often gather here for picnics, sports games, and community events.
The neighborhood offers opportunities for sports and outdoor recreation, including tennis courts, a swimming pool, and a clubhouse. These amenities provide residents with options to stay active and socialize within their community.
Housing Market in Loch Highland
Loch Highland provides an array of housing options to suit a wide range of budgets and preferences. From single-family homes to townhouses, luxury properties, and custom-built dream homes, the neighborhood offers something for everyone.  Whether you're a young professional seeking your first home, a family looking for a spacious place to raise children, or a retiree seeking a peaceful place to enjoy your golden years, Loch Highland provides something for everyone. The types of homes available in Loch Highland include:
Single-Family Homes that range in size and style.   These homes range from cozy ranch-style houses to spacious two-story properties.
Condominiums complexes in Loch Highland  offer a maintenance-free lifestyle. These residences often include features like concierge services, fitness centers, and secured access. While not as common as single-family homes, these residences can provide people with an attainable and safe living environment.
Townhouses are a popular choice for those who desire a lower-maintenance lifestyle or an affordable entry into the Loch Highland community. These residences typically feature modern amenities and often include community facilities such as pools, fitness centers, and recreational areas.
Luxury homes that feature many impressive architecture design.  Some feature the highly sought after contemporary/modern home with high-end finishes, and spacious yards. These homes often include custom-built kitchens, luxurious bathrooms, and outdoor living spaces designed for entertainment and relaxation.
There is also opportunities for those who have a vision to build their dream home.  Loch Highland has available plots for custom homes to suit an individual's needs.
It's important to note that Loch Highland's diverse housing options cater to a wide range of budgets, ensuring that anyone who desires to live in the neighborhood can find a home that suits their financial circumstances.
The Loch Highland housing market has been robust, with demand driven by its scenic beauty, strong sense of community, top-tier schools, and proximity to downtown Atlanta. While home prices have experienced steady appreciation, they remain competitive compared to many other Atlanta suburbs. This combination of factors has made Loch Highland a desirable destination for both first-time home buyers and those looking to upgrade to a larger property.
Proximity to Atlanta
Just a short drive away from downtown Atlanta, Loch Highland offers the best of both worlds. Residents can easily access the city's cultural, entertainment, and employment opportunities, all while returning to the tranquility of Loch Highland at the end of the day.  The city of Atlanta is home to a thriving job market with many opportunities in various industries.  Downtown Atlanta boasts an array of cultural venues, entertainment options and a diverse culinary scene.  Whether you're interested in attending a show at the Fox Theater, exploring the Georgia Aquarium, or trying a new restaurant, the city has something for everyone.
Atlanta is home to several professional sports teams, including the Atlanta Braves, Atlanta Falcons, and Atlanta Hawks. Sports enthusiasts can catch games and events throughout the year.  The city offers a wide range of shopping districts  from high-end boutiques to eclectic street markets.  The convenience of living near downtown Atlanta also extends to transportation. Major highways and public transportation options provide easy access to the city and its surrounding area
Loch Highland offers an ideal setting for those seeking an elevated suburban lifestyle with all the amenities of a vibrant city just a short drive away. It's no wonder that people love living in Loch Highland, where the charm of a close-knit community and the beauty of nature come together to create a truly unique and inviting neighborhood.
In conclusion, Loch Highland in Roswell, GA, offers a lifestyle that embraces the best aspects of suburban living. Its scenic beauty, sense of community, top-notch schools, diverse housing options, proximity to downtown Atlanta, recreational opportunities, and commitment to sustainability make it a highly desirable destination for those who seek an elevated quality of life. Whether you're an individual looking for a peaceful retreat or a family hoping to provide your children with a nurturing environment, Loch Highland is a place where your aspirations for an exceptional suburban lifestyle come to life. Loch Highland is more than just a neighborhood; it's a vibrant and welcoming community where you can live life to the fullest.