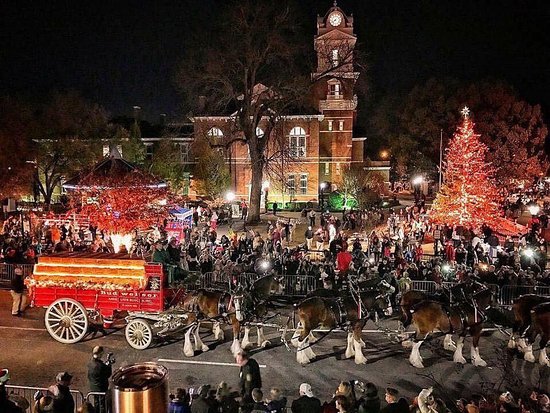 Downtown Lawrenceville, GA, is an urban charm that blends history, culinary delights, and family-friendly attractions. Tucked away in Gwinnett County, this vibrant urban center is a testament to the town's rich past and its commitment to a thriving future.
A Brief History
Lawrenceville's story dates back to the early 19th century when it was a bustling railroad town. The historic courthouse, a magnificent neoclassical structure that graces the town square, stands as a silent witness to the changing times. Today, it serves as a symbol of Lawrenceville's enduring spirit.
As you explore the downtown area, keep an eye out for the Lawrenceville Ghost Tours. This unique experience blends history and spine-tingling tales, offering a captivating journey through the town's haunted past. It's a perfect blend of education and entertainment, creating an unforgettable evening for visitors of all ages.
Stroll along the brick-paved sidewalks and feel the echoes of the past. The architecture preserves the town's heritage, offering a picturesque backdrop to modern life. Quaint storefronts house a variety of businesses, from boutique shops to cozy cafes, creating an inviting atmosphere that encourages exploration.
A Culinary Odyssey
Nestled in the heart of Gwinnett County, downtown Lawrenceville, GA, is a gastronomic haven that beckons food enthusiasts with a diverse array of restaurants, each offering a unique culinary experience. From quaint cafes to upscale dining establishments, this charming Southern town embraces diversity in flavors, reflecting the rich tapestry of its community.
Local Republic: Where Farm-to-Table Ingredients Elevate Classic American Fare
As you wander through the historic streets of downtown Lawrenceville, the inviting aroma of Local Republic wafts through the air. This gastropub, nestled in a historic building, has become a local favorite, renowned for its commitment to sourcing fresh, local ingredients. The menu is a culinary journey through American classics, elevated to gourmet heights. From juicy burgers crafted with hand-formed patties to inventive salads bursting with seasonal produce, Local Republic invites patrons to savor the essence of American cuisine.
Dominick's Italian: A Taste of the Mediterranean
Craving international cuisine? For those yearning for the flavors of the Mediterranean, Dominick's Italian is a culinary oasis in downtown Lawrenceville. This authentic trattoria captures the essence of Italy with its handcrafted pasta, rich sauces, and a warm, familial ambiance. Whether you're indulging in a classic Spaghetti Bolognese or relishing the delicate flavors of Osso Buco, Dominick's takes you on a journey across the Italian countryside, right in the heart of Georgia.
Strange Taco Bar: Pushing the Boundaries of Taste.
The culinary landscape of Lawrenceville takes an unexpected twist with the arrival of Strange Taco Bar. This avant-garde eatery embraces the art of taco-making as a canvas for culinary creativity. From Korean BBQ-inspired tacos to inventive vegan options, Strange Taco Bar unleashes a burst of flavors that challenges traditional notions of taco cuisine. The vibrant and eclectic atmosphere complements the bold and imaginative dishes, making it a must-visit for those with an adventurous palate.
McCray's Tavern: Where Pub Fare Meets Gourmet Delights
Step into the welcoming ambiance of McCray's Tavern, where the spirit of a traditional pub intertwines with gourmet delights. This downtown gem redefines pub fare, offering a menu that spans from mouthwatering burgers to fresh salads, all prepared with a touch of culinary finesse. The extensive beer selection and the warm, convivial atmosphere make McCray's Tavern a go-to spot for casual gatherings and laid-back evenings in the heart of Lawrenceville.
Universal Joint: Craft Brews and Comfort Food
Universal Joint, with its relaxed vibe and diverse menu, has become a cornerstone of Lawrenceville's culinary scene. Boasting a menu that spans from Southern comfort food to international flavors, this gastropub offers something for every palate. Pair your meal with one of their craft beers, and you're in for a delightful dining experience that captures the essence of both local and global culinary traditions.
Chon Ngern Thai Restaurant: A Symphony of Thai Flavors
Transport your taste buds to the vibrant streets of Bangkok at Chon Ngern Thai Restaurant. This downtown gem brings the authentic flavors of Thailand to Lawrenceville, offering a symphony of spices, herbs, and bold aromas. From the iconic Pad Thai to the aromatic Green Curry, each dish is a masterpiece that reflects the depth and complexity of Thai cuisine. The warm hospitality and traditional decor create an immersive experience, making Chon Ngern a destination for those seeking a culinary adventure in Southeast Asia.
Buzy Burrito: A Fiesta of Mexican Flavors
Embracing the zest and vibrancy of Mexican cuisine, Buzy Burrito is a celebration of flavors that adds a festive touch to downtown Lawrenceville. From sizzling fajitas to overstuffed burritos, every dish is a fiesta for the taste buds. The colorful decor and lively atmosphere make Buzy Burrito a go-to spot for those craving the bold and authentic tastes of Mexico.
Cozy Cafes: Where Coffee Meets Community
Downtown Lawrenceville isn't just a haven for full-fledged restaurants; it's also dotted with cozy cafes that serve as community hubs. Spots like Peachtree Coffee Company and Slow Pour Brewing Company blend artisanal coffee culture with a relaxed ambiance. These cafes aren't just places to grab a cup of coffee; they're spaces where neighbors connect, ideas flourish, and the vibrant pulse of downtown life thrives.
Sweet Treats: Indulgence for the Sweet Tooth
No culinary exploration is complete without satisfying your sweet tooth, and Lawrenceville offers an array of options for dessert enthusiasts. Local bakeries like Crave Pie Studio and McCray's West Village Tavern tempt patrons with delectable pies and decadent treats. These establishments are more than just dessert destinations; they're purveyors of culinary artistry that add a touch of sweetness to the diverse tapestry of downtown.
The Culinary Tapestry of Lawrenceville
In downtown Lawrenceville, the culinary landscape is more than a collection of eateries; it's a vibrant tapestry woven with diverse flavors, creative fusions, and a commitment to quality. The restaurants in this charming Southern town don't just serve meals; they craft experiences that reflect the warmth and richness of the community. So, whether you're a foodie seeking the next culinary adventure or a local looking for a familiar delight, downtown Lawrenceville invites you to savor the flavors that make it a truly exceptional dining destination..
Downtown Lawrenceville Nights: A Symphony of Lights, Laughter, and Libations
When the sun sets over the historic streets of downtown Lawrenceville, a transformation occurs. The city awakens with a vibrant energy, and the nightlife comes alive, offering a diverse array of experiences for those seeking to embrace the enchanting evenings in this Southern gem.
Live Music Under the Stars at Lawrenceville Lawn
As the stars twinkle overhead, Lawrenceville Lawn becomes a stage for the city's vibrant nightlife. The Summer Concert Series transforms this central green space into a hub of live music, attracting residents and visitors alike. The rhythmic beats and soulful melodies create a captivating atmosphere, inviting everyone to spread their blankets, kick back, and enjoy an evening of musical magic under the open sky.
Aurora Theatre: Where the Stage Comes to Life
For those seeking a cultural night out, Aurora Theatre is the epicenter of performing arts in downtown Lawrenceville. This dynamic venue hosts an array of theatrical productions, from Broadway-style shows to intimate plays. The cozy and intimate setting ensures that every seat provides a front-row experience, allowing theater enthusiasts to immerse themselves in the magic of live performances.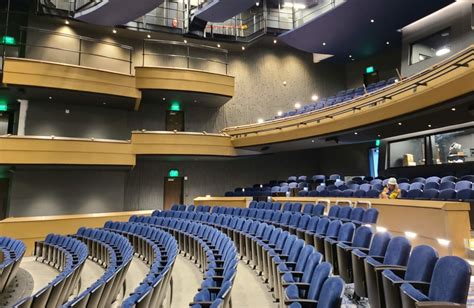 Lawrenceville Ghost Tours: Haunting Tales by Moonlight
As the night deepens, Lawrenceville Ghost Tours add a spine-tingling twist to the city's nightlife. Guided by lantern light, participants embark on a journey through the historic streets, where ghostly tales and mysterious legends come to life. This unique experience combines history and the supernatural, offering an engaging and slightly eerie way to explore the town after dark.
Universal Joint: Crafty Cocktails and Conversations
For those in search of a more laid-back evening, Universal Joint provides the perfect setting. This gastropub is not just a dining destination; it's a social hub where locals gather to unwind. The outdoor patio, strung with fairy lights, sets the scene for an evening of crafty cocktails, delicious bites, and lively conversations. It's a testament to the community spirit that defines downtown Lawrenceville's nightlife.
Slow Pour Brewing Company: Craft Beer Bliss
Craft beer enthusiasts find their haven at Slow Pour Brewing Company. This downtown gem boasts an impressive selection of artisanal brews, each with its own unique flavor profile. The industrial-chic ambiance and communal seating create a convivial atmosphere, inviting patrons to savor the complexity of craft beer while enjoying the company of friends and fellow beer enthusiasts.
Decadent Desserts and Late-Night Delights
The nightlife in downtown Lawrenceville extends to satisfy sweet cravings and late-night appetites. Local favorites like McCray's West Village Tavern and Crave Pie Studio offer indulgent desserts, ensuring that the night ends on a sweet note. Whether it's a decadent slice of pie or a warm, gooey dessert, these establishments add a touch of culinary delight to the nocturnal adventures in Lawrenceville.
Lawrenceville Nights: Where Memories Are Made
Downtown Lawrenceville's nightlife is a symphony of lights, laughter, and libations that resonate through the historic streets. Whether you're sipping craft cocktails under the stars, immersing yourself in live performances, or exploring the town's haunted history, the nightlife in Lawrenceville invites you to be a part of a community that comes alive after dark. So, as the sun dips below the horizon, venture into the heart of downtown Lawrenceville and discover a world where nights are not just moments in time but chapters in a captivating story of Southern charm and nighttime allure
Parks and Recreation
The city's commitment to creating an inviting and family-friendly environment is evident in its meticulously designed parks, playgrounds, and walking trails.  Whether it's a morning jog or an evening stroll, the city's walking trails offer a refreshing escape from the routine, allowing individuals to connect with nature while staying connected to the pulse of urban life.
At the heart of the downtown area lies Lawrenceville Lawn, a central green space that serves as a gathering point for both residents and visitors. With its lush expanses of well-manicured lawns, this park invites individuals and families to unwind amidst the beauty of nature.  Shaded areas, perfect for a leisurely picnic, provide a serene escape from the bustling urban landscape.  Families can bond over a game of Frisbee or soccer, creating memories against the backdrop of the town's historic charm. The Lawrenceville Lawn is not just a park; it's a vibrant community hub that hosts events, concerts, and festivals, fostering a sense of togetherness among the city's diverse population.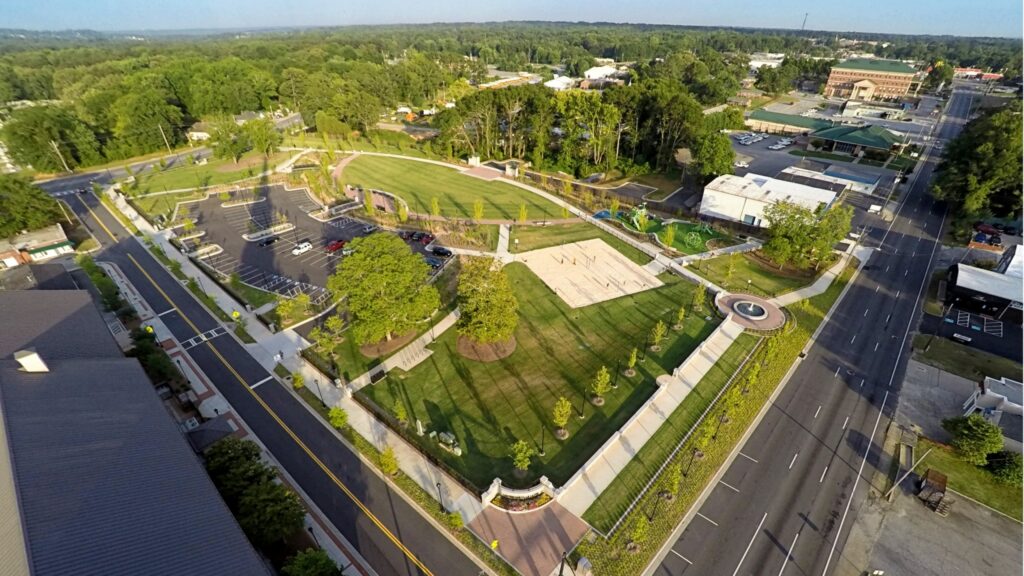 Families with young children will appreciate the playgrounds in Lawrenceville.   They are a testament to the city's dedication to providing safe and engaging spaces for play. Rhodes Jordan Park, a sprawling green oasis, boasts an expansive playground equipped with modern and imaginative structures. From swings to climbing frames, the playground caters to the diverse interests and developmental needs of children. Each visit is guaranteed to be filled with laughter and exploration.
The commitment to family-friendly spaces extends to the walking trails that weave through downtown Lawrenceville. One such treasure is the Lawrenceville Female Seminary Trail, a scenic path that offers a blend of history and nature. While strolling along this trail, you'll encounter markers that highlight the town's educational roots, providing a glimpse into Lawrenceville's past. The trail's beauty lies not just in its physical aspects but also in the stories it tells.
Fun for All Ages
Lawrenceville's commitment to family-friendly entertainment is further evident at Aurora Theatre. This cultural gem hosts a variety of performances, including Broadway-style shows and intimate plays. Families can enjoy quality productions suitable for all ages, fostering a love for the arts in the younger generation.
Children, in particular, will be enchanted by the Aurora Children's Playhouse, where interactive performances and storytelling captivate young imaginations. The theater's commitment to nurturing creativity makes it a cornerstone of Lawrenceville's cultural scene.
No visit to downtown Lawrenceville would be complete without a stop at the Aurora Cineplex. This family-friendly cinema offers the latest blockbuster films in a comfortable and inviting setting. With a range of snack options and state-of-the-art facilities, it's a perfect destination for a movie night with loved ones.
Community Spirit
Lawrenceville's commitment to community is evident in events like the Summer Concert Series. Held in the heart of downtown, these concerts feature a diverse range of musical acts, creating a lively atmosphere that brings residents and visitors together. It's a celebration of music, culture, and the vibrant spirit of Lawrenceville.
In the heart of it all lies the Lawrenceville Female Seminary. This historic site, now known as the Gwinnett History Museum, offers a glimpse into the town's educational roots. Visitors can explore exhibits that showcase Lawrenceville's evolution from a small Southern town to a thriving urban center.
Downtown Lawrenceville, GA, is more than a destination; it's a journey through time, culture, and culinary excellence. Whether you're strolling along the historic square, savoring a gourmet meal, or immersing yourself in family-friendly attractions, Lawrenceville welcomes you with open arms and a sense of Southern hospitality that's as timeless as its storied past.